Authorities justify the crackdown as a prevention of religious extremism in the country. But the U.S. State Department -- in its Annual Human Rights Country Report -- expressed concern over pressure against religious freedom in Tajikistan.
Raid On Schools
The latest moves by Tajik authorities against conservative Muslims appear to target the younger generation.
Ordinary Tajiks express mixed feeling about the government's hard stance on religious issues.
The Interior Ministry teams carried out raids on April 23-24 on places in the capital, Dushanbe, where children learn the Arabic alphabet and basic Islamic teachings. Several children were questioned on-site but released after a few hours, as their parents did not allow the police to take the youngsters away.
Shamsullo Mahmudov, the head of the Interior Affairs Department in Dushanbe's Sino district, was in charge of some of the raids. He accuses the teachers of beating the children.
"During our special search operation on Jabbor Rasulov Street we found several underage children who have been studying religious teachings behind closed doors," he said. "When we entered the house, the place was in such an appalling state. The children were kept in difficult conditions and they were hungry. Apparently, their teacher -- whose identity is not known to us -- tortured the kids."
Just a few weeks ago, Islamic head scarves were outlawed at Tajikistan's schools and Universities.
Education Minister Abdujabbor Rahmonov branded the head-scarf-wearing girls as "followers of Islamic movements who seek to promote their agenda in educational institutions."
Extremist Threat?
Ordinary Tajiks express mixed feeling about the government's hard stance on religious issues.
Some of them say the government's concern for threats from Islamic extremists in Tajikistan are exaggerated and misplaced.
"You cannot call those places 'madrasahs' or 'schools,'" says a Dushanbe resident, who did not want to give her name. "We send our children to our local mullah to learn the basics of Islam." She says that since young people are more vulnerable to "bad habits" such as abusing drugs, by sending her children for the Islamic lessons she wants to protect them from such problems. "Islam is a better [option] that could prevent the children from straying into corruption or prostitution."
But some Tajiks are more cautious about the mosques and madrasahs, saying some of these religious institutions go beyond just organizing prayers or teaching about Islam.
'Fanatics'
Muhayo, a 22-year-old student in Dushanbe, describes herself as "a peaceful follower of Islam." Muhayo says that she was once given a compact disk in a Dushanbe mosque. She said it was propaganda that encouraged girls to wear the Islamic hijab.
"The distribution of such disks should be prohibited," she said. "Do you understand how many young people will be sent in the wrong direction by such things? I know some people among my own friends who were turned into fanatics [by such things]. Fanatics!"
Muhayo says she prays five times a day herself, but would not approve of sending young children to a person who runs a school behind closed doors. "If you want to learn about Islam there are many other options," says Muhayo, "such as borrowing a book from a library or getting proper classes in a registered madrasah with an educated teacher."
(RFE/RL's Tajik Service correspondent Mirzo Salimov contributed to this report.)
Islam And Politics In Central Asia
Islam And Politics In Central Asia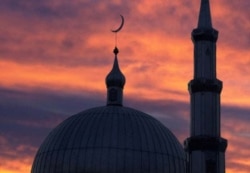 The Khodji Mashrab Mosque in Dushanbe (TASS file photo)
ACTIVISTS AND AUTOCRATS: Eric McGlinchey, assistant professor of government and politics at George Mason University, told an RFE/RL briefing that Islam-centered political movements present the most coherent challenge to autocratic governments in Central Asia.
LISTEN
Listen to the entire briefing (about 60 minutes):

Real Audio
Windows Media
RELATED ARTICLES
Central Asian Security Services Take On Religious Dissent
Family, Followers Reject 'Terrorist' Claims Against Slain Cleric
Hizb Ut-Tahrir's Calls For Islamic State Find Support
Imam Extends Welcome To Hizb Ut-Tahrir

A thematic webpage devoted to issues of religious tolerance in RFE/RL's broadcast region and around the globe.