Sherpao told Pakistani television that he had suffered only minor injuries in the assassination attempt.
The attack occurred in Charsadda, a town 20 kilometers northeast of Peshawar in the Northwest Frontier Province that borders Afghanistan.
"When they picked me up, I saw dead bodies lying all over the place."
There has been no claim of responsibility for the attack so far. Pakistan's government has formed an investigation team to probe the attack.
Funeral ceremonies are being held in Charsadda today for those killed in the attack.
It was the seventh suicide attack in Pakistan this year. The blast occurred as people gathered around Sherpao at the end of a public meeting in Charsadda.
Sherpao told Pakistan Television it was a targeted attack, and he was the target. He said he'd suffered minor injuries. One of Sherpao's aides and several of his security men were killed, and police said they had found the head and torso of the bomber.
Sherpao had just finished addressing a rally of supporters of his faction of the Pakistani People's Party when a man approached the minister and detonated an explosive vest pack with metal fragments.
Federal Information Minister Muhammad Ali Durrani told a press conference that the attacker carried about eight to 10 kilograms of explosives.
Sherpao's older brother died in a bombing in 1975 while serving as interior minister.
Doctors in Charsadda and Peshawar said scores of people were wounded, and several were in critical condition. Hundreds of anxious and grieving relatives thronged the hospitals.
An injured man in hospital, Ziarap Gul, told Reuters television: "Suddenly there was a huge explosion, then all of us lost consciousness. When they picked me up, I saw dead bodies lying all over the place."
A senior security official said 26 bodies had been counted, but the death toll is expected to rise.
On April 28, Pakistani President Purvez Mushararaf was in Turkey meeting with Afghani President Hamid Karzai. Both leaders condemned the Charsadda blast and vowed to carry on the fight against terrorism.
In December 2003, Musharraf himself narrowly escaped assassination.
The Afghan Insurgency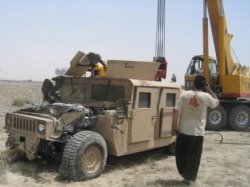 A U.S. military vehicle damaged by insurgents near Kandahar (epa)
HOMEGROWN OR IMPORTED? As attacks against Afghan and international forces continue relentlessly, RFE/RL hosted a briefing to discuss the nature of the Afghan insurgency. The discussion featured Marvin Weinbaum, professor emeritus of political science at the University of Illinois at Urbana-Champaign, and RFE/RL Afghanistan analyst Amin Tarzi.
LISTEN
Listen to the entire briefing (about 83 minutes):
Real Audio
Windows Media
ARCHIVE
RFE/RL's
coverage of Afghanistan
.
SUBSCRIBE
For weekly news and analysis on Afghanistan by e-mail,
subscribe to "RFE/RL Afghanistan Report."