Up to 1 million people rallied in Istanbul on April 29.
Supporters of Turkey's secular establishment, led by the powerful military, don't want the next head of state to come from the ruling AK Party, which has roots in political Islam. They accused the government of Prime Minister Recep Tayyip Erdogan of planning an Islamist state and demanded the AK Party withdraw its presidential candidate, Foreign Minister Abdullah Gul.
Gul, who is respected in EU circles, has vowed to carry on in his bid to succeed outgoing secularist President Ahmet Necdet Sezer.
The tensions continued mounting today, with the stock market plunging 8 percent as the government comes under fierce pressure from secular circles to declare early general elections.
The April 29 protesters waved Turkish flags and portraits of Mustafa Kemal Ataturk. The secular founder of modern Turkey was the first to hold the symbolically important office of president, which also has important veto and appointment powers.
Controversial Vote
Parliament held a first round of voting on April 27, in which Gul narrowly missed becoming the next head of state after opposition parties boycotted the vote. A second round is scheduled for May 2.
However, Turkey's highest judicial body, the Constitutional Court, is evaluating an appeal by the main opposition, pro-secular Republican People's Party to cancel the presidential election on the basis that a quorum of two-thirds of parliament's members were not present for the April 27 vote.
A decision in favor of that appeal could possibly lead to early general elections within the next three months. The court is expected to announce its verdict on May 1 or, at the latest, in the morning on May 2.
Raising the stakes on April 27 was Turkey's powerful military. The General Staff stated it was ready to take action to preserve the country's secular identity. A decade ago the army, apparently with broad public support, drove from office a democratically elected Islamist government.
The army's statement received an immediate reaction from government spokesman Cemil Cicek, who called it contrary to democratic principles.
"This statement has been perceived as adopting an attitude against the government," Cicek said. "Definitely in a democratic order it is strange even to think about it. We would like to say the chief of the General Staff is answerable to the prime minister and use of any expression against the government is not acceptable in a democratic and legal nation."
EU Urges Military To Stand Aside
European Union officials have sided with the government. They have appealed to the military to say out of politics and called the crisis a test case for secular democracy in Turkey, which aspires to join the 27-nation bloc.
"EU Enlargement Commissioner Olli Rehn put it very well: that this is a test case for democracy and democratic secularization in Turkey," Fadi Hakura, a Turkish affairs analyst with Chatham House in London, told RFE/RL. "This particular event, or this kind of event, was long in coming. Because essentially, it's really about, can the military accommodate itself within a strengthening and consolidating democratic system? And at the moment, the military has suspicions over the governing party."
Gul is seen as threatening to secularists because his wife wears the Islamic headscarf and he was once a member of a party outlawed for Islamist activities, the Virtue Party, which was banned in 2001.
But the soft-spoken diplomat, respected in EU circles, has vowed to carry on in his bid to succeed outgoing secularist President Ahmet Necdet Sezer.
"The process is going on," Gul said on April 27. "The withdrawal of my candidacy is not [an option]. This decision has been made after long discussions, after exchanging views. It was not taken in one night. The process is going on. Altogether, we have to wait for the Constitutional Court's decision. I think it is not correct to comment on that issue. The court will evaluate the issue and will decide in a most appropriate way."
Erdogan, who was forced to withdraw his own candidacy due to concerns over his Islamist past, is due to address the nation today. Analysts speculate he will stress his government's loyalty to secularism.
Economic Success Story
Turkey's influential association of industrialists, TUSIAD, has urged the government to call immediate early general elections.
Yet analysts agree that under Erdogan, the Turkish economy has flourished.
They point to foreign investment, which is flowing in at a rate of $20 billion a year, compared to about $1 billion a year during the 1990s. And many praise Erdogan's handling of affairs with the EU, with which he has opened accession talks.
Analyst Hakura, moreover, says polls show that most Turks are confident that secularism and Islam can live together peacefully -- even under a president from the AK Party.
"The AK Party, the governing party, has brought stability and has not really done anything to undermine the secular system," Hakura says. "Also, if one looks at the polls and surveys, the vast majority of the public actually have a very comfortable view with secularism and Islam in Turkey, and at the same time, very few -- it's quite low percentages -- see any threat to secularism in Turkey. So among the public, it's very different than at the official level."
According to polls, Erdogan remains Turkey's most popular politician and his AK Party the most popular political force. So even if general elections are called, both should win in a landslide.
Still, secularists hope a new parliament would choose a consensus presidential candidate -- something they were hoping for this time but didn't get.
Islam In A Pluralistic World
Islam In A Pluralistic World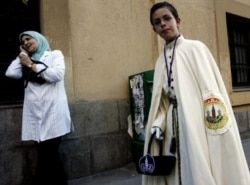 A Muslim woman (left) watches a Christian procession in Madrid in March (AFP)


READ
CONFERENCE ON ISLAM:
A major international conference on Islam concluded in Vienna in November 2005 with strong appeals from prominent Muslim leaders to recognize international terrorism as simply "terrorism." Political figures from Islamic countries, including the presidents of Iraq and Afghanistan, argued that it should never be labeled "Islamic" or "Muslim" terrorism because Islam is based on peace, dialogue, and tolerance. "Salaam" -- meaning "peace" -- was the key word of the three-day conference, titled "
ISLAM IN A PLURALISTIC WORLD
."
Iraqi President Jalal Talibani and Afghan President Hamid Karzai used the word in their remarks to emphasize the peaceful nature of Islam. Other speakers quoted passages from the Koran to the effect that all men and women, regardless of faith, are creatures of God and should live in peace with each other without discrimination
...(more)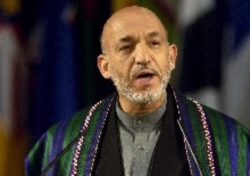 LISTEN
Listen to Afghan President
HAMID KARZAI
's complete address to the Vienna conference (in English):
Real Audio
Windows Media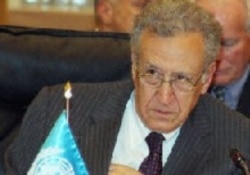 LISTEN
Listen to UN special envoy
LAKHDAR BRAHIMI
's complete address to the Vienna conference (in English):
Real Audio
Windows Media
THE COMPLETE PICTURE:
Click on the image to view a thematic webpage devoted to issues of religious tolerance in RFE/RL's broadcast region and around the globe.