But one of the handful of states whose approval Russia needs to move forward, Georgia, is not backing away from its vow to not finalize negotiations until Russia sets up functioning customs controls on its border with the Georgian separatist regions of Abkhazia and South Ossetia. RFE/RL correspondent Ahto Lobjakas spoke with Georgian Deputy Economic Development Minister Tamar Kovziridze.
RFE/RL: Has the Georgian position remained the same throughout the controversy -- that until Russia established functioning customs controls on its borders with Georgia, Georgia will block its entry into the WTO?

Tamar Kovziridze: Yes, this is still the position of Georgia. We have one principal issue to discuss with [the] Russians. You probably know that we had completed our bilateral negotiations back in 2004 on the condition that Russia would solve problems related to customs administration and regulation -- and this was exactly the problem of the illegal trade on the two checkpoints [one with Abkhazia, the other with South Ossetia] between Georgia and Russia. But because we didn't see any progress in that area, our government decided to reopen bilateral negotiations.
RFE/RL: And have these talks made any progress since they were reopened?

Kovziridze: Unfortunately, the talks have not been as constructive and productive as we hoped. [The] Georgian side expressed [its] readiness on several occasions to meet, invited [the] Russian minister and chief negotiator to Georgia -- as it is the normal practice that the candidate countries travel to member [states] to negotiate -- and we invited [Russia] with [an] open heart to meet. The only meeting that took place was in Geneva in January, [the] end of January and that was the only meeting where we had initial discussions, but not in detail.
(Kovzeridze says she has invited her Russian counterpart for another round of talks in Tbilisi.)
RFE/RL: Politically speaking, does the Georgian government believe it's realistic to expect that Russia will close down those two illegal border crossings and establish proper customs procedures?
Kovziridze: Well, I think even the Russian government must have thought it was to some extent realistic when they took this obligation [in 2004], not only we. So, yes, Russia is our immediate neighbor, one of our main [trading] partners -- now not any more the [biggest] one because of the sanctions that [were imposed] in 2005 and 2006, from their side the second one. But I think [Russia is] an important partner and if they want to be a member of the WTO, we have to make sure that there is no illegal trade between our countries.
RFE/RL: Russia has indicated on a couple of occasions that it might consider triggering some kind of majority vote within the WTO to bypass the Georgian veto -- a vote Moscow believes Georgia will lose.
Kovziridze: I only have to say [that] here in the WTO decisions are taken by consensus, and this rule applies to membership negotiations as well. There is no single country that entered the WTO based on a majority vote, and this is not allowed and this is not the practice because it cannot be. And even if it took place, I think, it would be not so favorable for the image of the country to be the only one [to] enter the organization without the consent of everyone, and it would not be very favorable for the image of the organization itself.
"Here in the WTO decisions are taken by consensus, and this rule applies to membership negotiations as well. There is no single country that entered the WTO based on a majority vote, and this is not allowed and this is not the practice because it cannot be." -- Kovziridze on the possibility of Russia joining the WTO without Georgia's consent.
RFE/RL: Do you feel the support of other larger players, such as the United States or the European Union, for your position?

Kovziridze: There is understanding for our position, of course, and I think it's quite natural that [that] is so, and obviously everyone understands that the issue that we pose toward Russia is of key relevance. Yes, we see a lot of understanding for that and I think this is something we have to sort out bilaterally with [the] Russians.
RFE/RL: Two of the major issues Georgia has with Russia are the embargo on Georgian wine exports (imposed March 2006) and suspension of direct flights between the two countries (October 2006). Russia has complained that some Georgian wines are fake or mislabeled, that, for example, up to 10 times more Kvanchkara wine is produced than the region's grape yield would allow.

Kovziridze: I can confirm that this is a problem [for] our wine producers. I mean, [there is the issue of] intellectual property rights. We raised this issue many times with the Russians. There were falsified wines on the Russian markets that were not only produced there, but also imported from third countries [countries other than Georgia] into Russia. So, yes, I do agree with you that it's damaged a lot not only the image [of Georgian wine makers] -- because the quality of these products was sometimes very bad -- not only the image, but [also] purely [Georgia's] economic [interests]. And it's counter to the principles of the WTO and the WTO agreement on intellectual property rights.
RFE/RL: And the ban on direct flights, I understand, is said by Russia to boil down to some $3 million owed by a Georgian company. How is this coming along?
Kovziridze: These discussions haven't really -- I mean, they were at a very initial stage of resumption or start of discussions, but [there has been] no constructive outcome. The issue of debt is not the real problem because on that, you can negotiate. The problem was that these air connections [were] interrupted all of a sudden without any prior notification, which violated our bilateral civil-aviation agreement -- just like the closure of [the] checkpoint that was done overnight, and we suddenly learned that the only legal checkpoint is closed.
RFE/RL: And finally, as the deputy minister for economic development, how do you see Georgia's economy doing now that the Russian sanctions have been in place for more than a year?

Kovziridze: Generally, the economy managed to overcome the initial difficulties very well and it grew at 9.4 percent last year [Kovzeridze estimates that the Russian sanctions cost Georgia two percentage points of annual growth]. There were many sectors of the economy that grew at double-digit rates -- like banking [at] 40 percent growth is a very dynamic sector. Tourism, transport, and trade are developing very fast, [also] mining, processing -- so, there is a lot of [dynamism] in the economy. Nonpipeline investment [alone] increased by over 400 percent.
Russia's Contentious WTO Bid
Russia's Contentious WTO Bid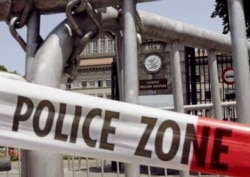 Russia remains barred from entering the WTO (epa)

WILL RUSSIA GET ITS WISH?

"It is of the utmost importance for us to complete talks this year in order to take part in a new political cycle with the status of a WTO member" -- Russian Economic Development and Trade Minister German Gref; April, 2007.

Russia has made clear its desire to enter the World Trade Organization ahead of parliamentary elections in December and presidential vote in March 2008.
But despite the removal of a major obstacle when the United States signed off on bilateral negotiations with Moscow in November 2006, Russia's accession to the world's largest trading bloc still faces difficulties:
Before Russia's bid can go to the WTO for a majority vote, bilateral negotiations must be completed with any current members who wish to do so. Russia hopes to wrap up outstanding negotiations -- with Cambodia, Vietnam, Georgia, and Guatemala -- by July.
Although Russia and Georgia initially completed bilateral negotiations in 2004, Georgia rescinded its approval over Moscow's failure to establish customs controls between Russia and the Georgian breakaway republics of Abkhazia and South Ossetia.
U.S. Trade Representative Susan Schwab announced in April that Washington is not yet prepared rescind the Jackson-Vanik amendment. The Cold War-era legislation, adopted in response to Soviet restrictions on the emigration of Jews and other minorities, prevents normal trade relations with Russia.
Russian First Deputy Prime Minister Sergei Ivanov in April was quoted by ITAR-TASS as saying: "If there are requirements that have not been not applied to other countries joining the WTO, we should not follow them."
Moscow may have to conduct bilateral with Kyiv in the event Ukraine joins the WTO before Russia does.
RELATED ARTICLES
Moscow Nears Deal With U.S. On WTO Entry
Georgian Premier Outlines Stance On Russian WTO Entry