A number of rockets and mortars have been fired at Baghdad's Green Zone over the past few days, but until now there had been no reports of casualties.
In other news, the U.S. military announced that its forces have arrested two Iraqis suspected of smuggling weapons and armor-piercing explosives from Iran into Baghdad's Shi'ite district of Al-Sadr City.
The military said the two Iraqis arrested in the dawn raid are suspected members of a secret terrorist network. It said the network is known for facilitating the transport of weapons from Iran to Iraq, and is also training Iraqi militants in Iran.
The U.S. has in the past accused Tehran of supporting Iraqi attacks on coalition forces.

Iraq Funding Vote
Meanwhile, Democrats in the U.S. House of Representatives has failed to override President George W. Bush's veto of war-funding legislation that would force a troop pullout timetable in Iraq.
Following the failed vote, Bush welcomed congressional leaders from both political parties to the White House to discuss differences on emergency funding for the four-year-old war.
After the meeting, both sides said they felt it necessary to pass a bill by the end of May.
In Iraq, some 4,000 extra U.S. soldiers arrived as part of Bush's troop buildup to end sectarian violence between majority Shi'a and minority Sunnis.
(compiled from agency reports)
Iraq's Refugee Crisis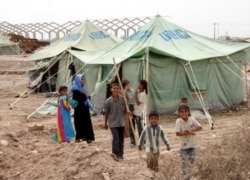 Children at an Iraqi camp for displaced people outside Al-Nasiriyah in May 2006
REFUGEES FLEE SECTARIAN VIOLENCE The UN High Commissioner for Refugees has estimated that over 2 million Iraqis have fled sectarian violence for Jordan, Syria and other neighboring states, while an equal number may be internally displaced within Iraq..... (more)
RELATED ARTICLES
Neighboring States Call For Help With Refugees
Refugees Under Pressure in Syria, Jordan, Lebanon
Displacements Upset Religious, Ethnic Communities
Official Says Refugees To Get New Passports Soon