The recommendations come in a major report agreed today at a meeting in Bangkok by the Intergovernmental Panel on Climate Change.
The report urges nations to cut annual emissions of CO2 -- one of the so-called greenhouse gases -- by more than half by 2050, based on 2000 levels.
Time To Change Lifestyles
It is believed that would limit the global rise in temperature to some 2 degrees Celsius. Such an increase is widely recognized as the threshold at which some of the most extreme impacts of climate change will begin.
The report, the third of four planned by the panel this year, says the cuts would only cost a tiny fraction of world economic output.
"This report for the first time has dealt with lifestyles and consumption patterns as an important means by which we can bring about mitigation of greenhouse gas emissions," panel Chairman Rajendra Pachauri told a news conference in Bangkok today.
To keep within the 2-degree threshold, the report recommends that emissions of carbon dioxide need to drop between 50 and 85 percent by 2050.
The report says technological advances -- particularly in producing and using energy more efficiently -- make hitting such targets a realistic goal.
High Hopes For Technology
The UN text highlights the use of nuclear, solar, and wind power. It also says capturing and storing the carbon dioxide spewed from coal-fired power stations and oil and gas rigs is worth pursuing.
Technology could even lead to benefits such as reducing health costs by cleaning up pollution.
Even changing planting times for rice paddies or managing cattle and sheep flocks better could cut emissions of methane, another greenhouse gas blamed for global warming.
Pachauri said simple lifestyle changes will be key to the world's climate efforts:
"What is an extremely powerful message in this report is the need for human society as a whole to start looking at changes of lifestyles and consumption patterns," he said.
Scientists and officials from more than 100 countries took part in drafting the report. Rather than setting out policies, it reviews the latest science on ways to curb emissions growth and is designed as a blueprint for governments.
In two previous reports this year, the panel concluded it is more than 90 percent likely that global warming is mainly due to human activity and that the poorest countries are likely to be hardest hit by climate change.

Global Climate Change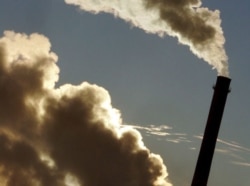 View a photo gallery summarizing some key findings of the Stern report on the economic costs of global warming (epa)

THE STERN REPORT: In October, former World Bank chief economist Sir Nicholas Stern issued a 700-page report on the economic impact of global warming. The report, which was commissioned by the British government, estimates that climate change could cost between 5 and 20 percent of global GDP by the end of the century....(more)
RELATED ARTICLES
Siberia's Once Frozen Tundra Is Melting
Blair Highlights Global-Warming Concerns
Scientists Argue About Need For Urgent Action
ARCHIVE
RFE/RL's
coverage of the environment
.