In May 2005, Uzbek security forces fired on a crowd of demonstrators in the main square of the eastern city of Andijon, killing by most estimates hundreds of people.
The echoes of those shots still reverberate around the Central Asian republic, giving it the reputation as one of the worst human rights offenders in the region.
One of the numerous casualties of the Uzbek crackdown on NGOs was Human Rights Watch, which in April received notice to close its office in Tashkent.
According to Lotte Leicht, of the U.S.-based group Human Rights Watch (HRW), conditions in Uzbekistan in the last two years have only deteriorated.
"The situation in Uzbekistan in human rights terms has been going steadily downhill since the Andijon massacre," Leicht said. "The government has not cooperated with an international inquiry as sought by the European Union, and it has launched an unprecedented crackdown on civil society, journalists, and human rights activists."
Debate In The West Continues
As the second anniversary of the killings arrives, there is debate in the West about how to pressure the Central Asian republics to improve their rights records. The European Union is due on May 14 to decide whether or not to keep the sanctions it imposed on Uzbekistan following the events at Andijon.
Expert opinion is divided on whether sanctions are useful. Analyst Svante Cornell, of Uppsala University in Sweden, says that in this case they have not achieved anything and should be removed.
"The EU of course slammed sanctions on Uzbekistan after the Andijon events, which might be morally justified but politically speaking it turned out to be a dead end," Cornell said. "First of all, the main result of the estrangement of Uzbekistan from the West, was a further deterioration of the situation for human rights organizations, actually for all types of civil society organizations. So in fact what was perhaps a morally justifiable decision, turned out to be immensely counter-productive."
Cornell's view is that one ought not to isolate Uzbekistan, but to keep in contact with it, to interact with it, so as to gain the influence necessary to gradually improve the situation.
The Energy Question
Noting Europe's interest in the region's energy resources, he says it is not a question of choosing a moral path of refusing to deal with oppressive regimes, or ignoring ethics in order to gain access to oil and gas -- the two should go hand in hand.
"It will be practically impossible to pursue an energy-centered view of the region with complete disregard for the human rights situation," Cornell said. "Therefore I would argue that likewise it would be impossible for us to have any real influence on the democratization and rights situation in these countries, without also engaging with them in such issues as energy and security. In that sense I would argue that it is only possible to pursue in the longer term these various objectives if they are undertaken in a coordinated fashion."
One of the numerous casualties of the Uzbek crackdown on nongovernmental organizations was Human Rights Watch itself, which in April received notice to close its office in Tashkent for exceeding its authority.
HRW spokeswoman Leicht took a strongly contrary view to Cornell on sanctions.
"It would be profoundly absurd -- and arrogant and ignorant considering the facts in Uzbekistan and developments in Uzbekistan since Andijon -- to even consider easing or lifting EU sanctions at this time," Leicht said.
Her view is that the EU should "set the bar high," as she put it, meaning in this case that it should link its economic cooperation with Uzbekistan to improvements in Uzbek human rights behavior.
Russia And China
Analyst Cornell said Russia and China have been able to benefit from the indecision of the West on dealing with Central Asia.
"Russia and China, particularly Russia, have made a point of exploiting the mixture of politics and ideology on the side of the West," Cornell said. "There has been an injection of ideological elements into Western foreign policy formulation in the region, which has enabled China and Russia to appear as guarantors of regime security for countries of the region, thereby reducing their interest in interaction with Western countries."
The Western powers are interested in access to Central Asia's energy and mineral wealth, and therefore have the difficult task of pressing for better human rights observance while at the same time pursuing their economic interests.
Andijon Refugees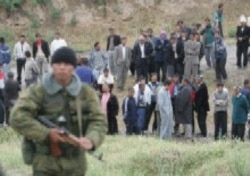 Uzbek refugees in Kyrgyzstan on May 19, 2005 (epa)


NO PLACE TO GO: More than 400 Uzbeks who fled in panic in the hours and days after troops opened fire on demonstrators in Andijon one year ago have been granted political asylum outside Central Asia. In limbo for weeks in Kyrgyzstan as they and the world tried to come to grips with the bloody events of May 12 and 13, they feared for their lives and the lives of family members as the official crackdown continued.... (more)
RELATED ARTICLES
Andijon Refugees In Romania Have Escaped Violence, But Not Heartache
Refugees In Romania Await Decision On Destination
Refugees Want To Return Only If Regime Changes


THE COMPLETE STORY: A dedicated webpage bringing together all of RFE/RL's coverage of the events in Andijon, Uzbekistan, in May 2005 and their continuing repercussions.
CHRONOLOGY
For an annotated timeline of the Andijon events and their repercussions, click here.