Armenians Vote In Parliamentary Elections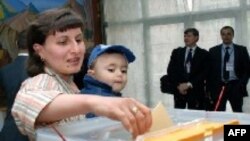 Polling station in Yerevan (AFP) YEREVAN, May 12, 2007 (RFE/RL) -- Polls have closed in Armenia's parliamentary elections, with reports of turnout higher than expected.
According to the Central Election Commission, almost 46 percent of eligible voters cast ballots as of 5 p.m. local time, three hours before the closure of polls.
About 2.3 million people were registered to vote in the elections for the 131-seat National Assembly. No minimum turnout is required for the vote to be valid and preliminary results are expected within the next 24 hours.
The voter turnout was thus on course to exceed the official figure of just over 50 percent reported by the election commission during the previous parliamentary elections.
The ruling Republican Party, led by Prime Minister Serzh Sarkisian, and other pro-government forces are tipped to win the majority of seats.
Sarkisian said the vote is proceeding smoothly.
"I highly evaluate the chances of our party. Voting is going smoothly. There are no serious incidents that could worry us. I would very much like the elections to be the best in our history, both for our people and for many observers," he said.
But Artur Baghdasarian, the leader of the Law-Based State opposition party, said some political forces were involved in large-scale voter bribing.
The United States and European Union have urged Armenian authorities to ensure a free and fair ballot. They say the country must show an improvement over the 2003 vote, which fell short of democratic standards.
Sarkisian has said that the vote will not disappoint election monitors from the Organization for Security and Cooperation in Europe, the Council of Europe, and the Commonwealth of Independent States.
Opposition Protests
Opposition protesters have this week called for the impeachment of Kocharian, who is required by the constitution to step down next year when his second term ends.
Although Sarkisian is seen by many as Kocharian's most likely successor, opposition leaders such as Aram Karapetian have different hopes.
Karapetian, who heads the New Times party, one of three forces that make up the opposition bloc, thinks there will be a revolution in Armenia eventually.
"It will definitely happen, even if it happens by means of elections, because the existing system of power should be broken down by the revolution," Karapetian says.
Election Monitors
International election observers hope that Armenia's parliamentary elections are conducted in a free and fair manner.
Urdur Gunnarsdottir, a spokesperson for the OSCE's election monitoring body, says the most important thing is that the authorities show the people that they are capable of holding democratic elections.
"That is the corner stone, without that everything else comes second," Gunnarsdottir says.
Sarkisian has said he fully expects opposition parties to win seats in parliament.
But the opposition has accused the authorities of not giving them fair treatment on tightly controlled television.
Monitors will no doubt be closely studying such allegations.
After past elections, opposition supporters alleging ballot-rigging have clashed with police. Riot police this week already stepped in once with tear gas against opposition activists, and they are out in numbers today in the streets of Yerevan.
(With agency reports)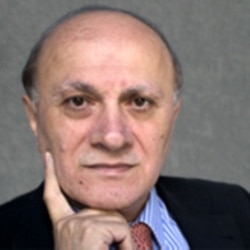 What's At Stake In Parliamentary Vote?
By Harry Tamrazian, director, RFE/RL's Armenian Service
Will Armenia have free and fair elections? Ask that question anywhere from the streets of Yerevan to a remote country village and the answer will usually be 'no.'
There have been 10 national polls since Armenian gained independence. Of those, eight failed to meet international standards for a clean and democratic vote. The sole exceptions came early on -- a referendum on independence and the first presidential elections, both in 1991." more