Earlier this year, Kazakh President Nursultan Nazarbaev once again suggested creating a regional economic bloc modeled after the European Union or South America's Mercasor free-trade agreement. A few weeks later, Kyrgyzstan's former prime minister and opposition leader Feliks Kulov proposed merging his country into a confederation with Russia.
Each plan stems from a specific political agenda; neither appears realistic.
Meeting with journalists at his presidential palace in Astana, Nazarbaev on April 9 said all conditions were met for the five Central Asian republics of Kazakhstan, Kyrgyzstan, Tajikistan, Turkmenistan, and Uzbekistan to unite.
The long-time Kazakh leader claimed that "God himself orders us to unite" before he enumerated what makes such a project viable. He said those factors include an absence of linguistic barriers, complementary national economies, and an abundance of natural resources.
Why Not?
He wondered aloud "why [Central Asians] can't...build such a union."
Addressing a conference on June 5, Bulat Sultanov, the director of the Kazakhstan Institute for Strategic Studies, a think tank close to the presidential administration, said Nazarbaev's plan envisaged an "evolutionary" integration model. He said the scheme would involve the successive creation of a free-trade zone, a customs union, and a common economic space.
Nazarbaev first floated his proposal in a national address two years ago. Last year, he appeared to drop the idea, simply advocating greater economic cooperation among regional states.
But changes nearby in Ashgabat -- where a new president appears to be seeking an end to Turkmenistan's isolation -- might have convinced Nazarbaev that the time has come to revive what some regional experts have described as a utopian scheme.
Bishkek On Board?
So far, only Kyrgyz President Kurmanbek Bakiev has responded favorably -- and rather unambiguously -- to the Kazakh initiative. Bakiev said after talks with Nazarbaev in Bishkek in April 26 that "Kyrgyzstan and Kazakhstan are ready for such a union." He added that "we must therefore consolidate [that union] without waiting until the idea comes to maturity in all [Central Asian] states."
One month later, Bakiev's main political opponent presented his own post-Soviet integration proposal. In televised comments on May 30, ex-Prime Minister Kulov suggested that his country team up with Russia in a confederation -- open to other CIS states -- "that would respect the statehood and national sovereignty" of all its members.
Kulov vowed to initiate a campaign to collect 300,000 signatures to force Bakiev's administration to agree by June 20 to hold a national referendum on Kulov's confederation project. Kulov threatened to demand the dissolution of parliament and early presidential polls if Bakiev refused.
Kulov has offered many justifications for his proposal, including that thousands of Kyrgyz migrants have left to seek jobs in Russia and have therefore "voted with their feet in favor of a union."
Pro-government and opposition politicians alike have met his confederation bid with skepticism. Critics have accused Kulov of allowing his personal resentment toward Bakiev -- who recently ordered a police crackdown on government opponents -- to overshadow his concern for Kyrgyzstan's national interests.
Mum In Moscow
Russia, whose efforts to form a viable union with neighboring Belarus have met with little success, has not reacted to Kulov's proposal.
The only official to have publicly responded is Ivan Makushok, a Russian nationalist and an aide to Russia-Belarus Union State Secretary Pavel Borodin. Makushok told Russia's "Kommersant" on June 1 that Kyrgyzstan is welcome to join the existing union state.
Whether entering into a confederation with a distant, impoverished country plagued with chronic political instability would serve Moscow's interests is a question. Some Russian commentators believe Kulov intends to secure Kremlin support in anticipation of renewed confrontation with Bakiev.
Russia is the driving force behind the CIS and a number of sub-groupings that bring together Central Asian and other states.
Those blocs include the Eurasian Economic Community -- which succeeded the Central Asian Cooperation Organization in 2004 --, the Collective Security Treaty Organization, and the Shanghai Cooperation Organization.
Regional observers believe Moscow is unlikely to support any plan to foster new regional alliances without its participation. They argue that any attempt at integrating Central Asian economies outside existing groupings would be perceived by the Kremlin as a bid to challenge its influence in the region.
Homespun Hurdles
The real obstacle to Kazakhstan's regional ambitions, however, comes from within Central Asia itself.
Not all Central Asian capitals are ready to subscribe to what they believe would be an attempt at consolidating Kazakhstan's economic predominance in the region.
Kazakhstan is the leading foreign investor in Kyrgyzstan. It has invested more than $100 million into the Tajik economy, and is now considering developing industrial projects in Turkmenistan's energy sector. Kazakhstan also has stakes in dozens of Uzbek-based joint ventures.
Relations between oil-rich Kazakhstan and the region's other big energy producer, Turkmenistan, a have significantly improved since the death in December of Turkmen President Saparmurat Niyazov. Both countries agreed earlier this year to coordinate their energy policies, and they have teamed up with Russia to build a gas-export pipeline along the Caspian Sea's eastern shore. Nazarbaev and Niyazov's successor, Gurbanguly Berdymukhammedov, signed an agreement in May to boost bilateral trade, economic, cultural, and scientific ties until 2020.
Russia's "Nezavisimaya Gazeta" and "Kommersant" newspapers both speculated on May 30 that the new Turkmen leader might soon lend support to his Kazakh counterpart's Central Asian union plans. But for that to happen, Berdymukhammedov would have to abandon Turkmenistan's official policy of nonalignment and check his own regional ambitions.
Tashkent And Dushanbe
The situation is more clear regarding Central Asia's two other republics: Uzbekistan and Tajikistan.
While Kazakhstan possesses the largest territory and the strongest economy in Central Asia, Uzbekistan is home to its biggest population. It also has an industrial potential that might easily translate into ambition for a leading role in the region.
Both countries have long been vying for primacy in Central Asia, and Uzbekistan's relations with Tajikistan and Turkmenistan have been traditionally tense.
In a May 25 piece in an Uzbek government-controlled electronic newspaper, "Uzbekistan Today," the director of the Tashkent-based Regional Policy Foundation, Saifiddin Zhuraev, ridiculed Nazarbaev's past and present union initiatives. Zhuraev called them ill prepared and built on sand. He also suggested that such grand integration projects are aimed at "stating loudly once again that their authors are regional 'leaders'" and at fulfilling other public-relations goals.
Tajik Foreign Minister Hamrokhon Zaripov pledged in May that Dushanbe would "carefully" study the Kazakh proposal, ferghana.ru reported on May 10.
But it seems doubtful that Tajikistan -- Central Asia's only Persian-speaking country -- would agree to enter a union dominated by Turkic countries.
In a national address on April 30, Tajik President Emomali Rahmon made it clear that he was satisfied with the current level of regional integration -- achieved through the Eurasian Economic Community (Eurasec) and the Shanghai Cooperation Organization (SCO).
President Rahmon also said he intends to continue his "open-doors foreign policy" and further develop bilateral ties with Iran, Afghanistan, India, Pakistan, China, and the United States.
Given the chaotic relations that have been developing among Central Asian states since 1991 and the lack of political will among some of the region's leaders, it might be some time before Nazarbaev's scheme could begin to take shape.
Exporting Kazakhstan's Energy
Exporting Kazakhstan's Energy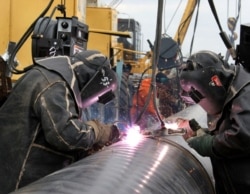 Work on a Kazakh pipeline (TASS file photo)


PRESSURE FROM THE KREMLIN? Columbia University political science professor Kimberly Marten told an RFE/RL briefing that Russia seems to be using its control of gas pipelines in the former Soviet Union to pursue its goals in Kazakhstan.
LISTEN
Listen to the entire briefing (about 60 minutes):

Real Audio
Windows Media
RELATED ARTICLES
The Emerging Post-Soviet Petrostates
Nazarbaev, Merkel Discuss Energy, Bilateral Ties
Nazarbaev Talking Energy, Economic Cooperation On China Visit
ARCHIVE
RFE/RL's coverage of
Kazakhstan
.