As a Bosnian Muslim scholar, he rejects notions that tensions between the Christian-rooted West and the Muslim East are inevitable. RFE/RL South Slavic and Albanian Languages Service correspondent Gordana Knezevic spoke with Karcic after he took part in a June 13 panel discussion at RFE/RL in Prague.
RFE/RL: What do you think about the widespread theory that today in international relations we are witnessing a clash of civilizations -- Muslim and Christian?
Fikret Karcic: What we see, I think, is an attempt to define a new paradigm that would reflect the state of international affairs in the post-Cold War world. [Harvard University professor] Samuel Huntington's theory of the clash of civilizations has by now become the prevailing paradigm that captures some of the modern world's complexities. However, in order for a paradigm to really hold its ground a whole set of conditions has to come into place. The theory about the clash of civilization has been around for years, and for many observers it has almost become a self-fulfilling prophecy. I disagree with this theory, for I do not think that what we are seeing today is indeed a clash of civilizations -- Western and Islamic -- but rather a clash of divergent interests, which are being disguised as cultural or religious and then presented as such. But I am afraid that if we keep endlessly addressing this notion of the clash of civilization, we might well end up in just such a clash.
RFE/RL: Do you see today's world as sharply divided along cultural, ethnic, or religious lines?
Karcic: I believe that we cannot really talk about a global Islamic entity, nor about the Christian entity as its antipode. These two opposing worlds are just fictional. The truth is that so-called Christian and Islamic cultural elements are so intertwined today that this notion of the two rival and monolithic worlds is for the most part just imaginary.
RFE/RL: What do you think should be the role of politicians and religious leaders in addressing the underlying issues of the modern world?
Karcic: I would advise today's policymakers to carefully examine the causes of terrorism and violent extremism in the world. We need to understand the political, economic, and social impetus of violence, rather than attribute it, almost by default, to religion. On the other hand, religious leaders should delegitimize the use of violence in the name of religion. They should say very bluntly that those who resort to violence are working against their own religion. However, this alone will not stop terrorism, unless the root causes of violence are successfully addressed.
Islam In A Pluralistic World
Islam In A Pluralistic World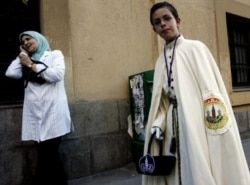 A Muslim woman (left) watches a Christian procession in Madrid in March (AFP)


READ
CONFERENCE ON ISLAM:
A major international conference on Islam concluded in Vienna in November 2005 with strong appeals from prominent Muslim leaders to recognize international terrorism as simply "terrorism." Political figures from Islamic countries, including the presidents of Iraq and Afghanistan, argued that it should never be labeled "Islamic" or "Muslim" terrorism because Islam is based on peace, dialogue, and tolerance. "Salaam" -- meaning "peace" -- was the key word of the three-day conference, titled "
ISLAM IN A PLURALISTIC WORLD
."
Iraqi President Jalal Talibani and Afghan President Hamid Karzai used the word in their remarks to emphasize the peaceful nature of Islam. Other speakers quoted passages from the Koran to the effect that all men and women, regardless of faith, are creatures of God and should live in peace with each other without discrimination
...(more)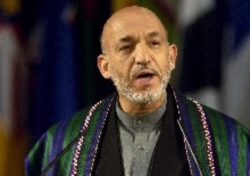 LISTEN
Listen to Afghan President
HAMID KARZAI
's complete address to the Vienna conference (in English):
Real Audio
Windows Media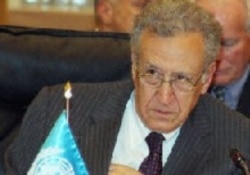 LISTEN
Listen to UN special envoy
LAKHDAR BRAHIMI
's complete address to the Vienna conference (in English):
Real Audio
Windows Media
THE COMPLETE PICTURE:
Click on the image to view a thematic webpage devoted to issues of religious tolerance in RFE/RL's broadcast region and around the globe.