Tajikistan: 10 Years Of Peace, But Prosperity Still Elusive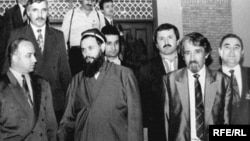 (Front row, left to right) Government delegation head Shukurjon Zuhurov, Islamic Renaissance Party leader Said Abdullo Nuri, opposition representative Otakhom Latifi at the second round of peace talks in Islamabad in 1995 (RFE/RL) June 26, 2007 (RFE/RL) -- Tajikstan will on June 27 mark the 10th anniversary of the signing of the Tajik National Peace Accord that officially ended a brutal five-year civil war. Though Tajik President Emomali Rahmon is inviting citizens to join in the festivities to celebrate 10 years of peace, many people do not view the last decade as a progressive period.
At the Moscow ceremony, Tajik President Emomali Rahmon (Imomali Rakhmonov at the time) and United Tajik Opposition (UTO) leader Said Abdullo Nuri stood on a podium in Moscow and signed the Tajik National Peace Accord. Russian President Boris Yeltsin and Iran's ambassador to Russia were also in attendance.
Peace At Last
Yeltsin announced the signing of the deal, saying: "On the ancient and long-suffering land of Tajikistan a long-lasting peace has come at last."
"If [people] want improvement, transformation, people should fight for their rights and their rights should be respected. Only in this way will there be a lasting peace."
PHOTO GALLERY: Images from the Tajik civil war.
Rahmon said it was a dream for his country's people: "Peace and harmony were an enviable dream of the peoples of Tajikistan. The history of mankind bears witness to the fact that Tajiks never raise the sword of hostility."
And UTO leader Nuri noted it had been a long road to peace. "The United Tajik Opposition and the government traveled a very difficult road during the three years of [peace] negotiations," he said. "They passed through many formidable obstacles to reach this day."
It was a difficult road. The peace agreement officially ended five years of civil war that killed more than 100,000 people, created nearly half a million refugees, and internally displaced people while shattering the country's infrastructure.
Reasons For War
The causes of the war were complicated. The government portrayed it as a fight between its secular forces against Islamists, though democratic movements participated in the UTO as well. The war also had a regional aspect, which some analysts saw as Rahmon's native Kulob area trying to assert itself and hold onto power. And there were powerful local figures who simply wanted to rule their territory as warlords but sent their paramilitary groups to help government forces. In terms of observing basic human rights and media freedoms, Tajikistan ranked among the worst countries in Central Asia during this time.
The Tajik peace agreement was unique. It not only ended hostilities but also gave the opposition 30 percent of the positions in government and provided for armed opposition fighters to join the Tajik Army. The last of those opposition officials left office in December last year.
But while Rahmon and other Tajik officials hail the peace deal and its significance this week, public opinion indicates that few Tajiks are satisfied with the situation in the country. Dodojon Atavullo has long been an opponent of Rahmon's government. He is the chief editor of the newspaper "Charoghi Ruz," published in Russia. He said the peace agreement was successful in stopping the fighting but did nothing else.
"The word 'peace' is misleading, just like the words 'freedom, independence, and justice,'" Atavullo said. "The people in Tajikistan respect peace but unfortunately the peace process ended in a political bargaining process and if during the civil war years there were 150,000 or even 300,000 refugees, today we have more than one million economic refugees who have left the country. Unfortunately, the Tajik leadership was only able to stop the fighting but the causes of the conflict remained."
Could History Repeat Itself?
And Muhiddin Kabiri, the leader of Tajikistan's Islamic Renaissance Party, the only officially registered Islamic party in Central Asia, warned that unless changes for the better come the country could find itself back in the same predicament it was in.
"If everyone thinks peace is a fact and the country won't go back to this [civil conflict] and so do not pay attention, they are mistaken," he said. "From our point of view the violations of the agreement and continuing violations generally concern political matters. If future elections will again be like the 2005 parliamentary elections we will look at that as a violation of the peace accord. I think the spirit of the peace agreement should always be on everyone's mind in Tajikistan."
Ahead of the 10th anniversary of the peace agreement, RFE/RL's Tajik Service spoke with people on Tajikistan's streets and offered visitors to its Tajik-language website an opportunity to voice their opinions about problems in Tajikistan one decade after the signing of the peace accord.
One Tajik woman said the continued violations of basic rights are the biggest problem in the country.
"Human rights violations could have political consequences," she said. "Misunderstandings could arise between the people and the government, so every citizen should pay attention. Our people are afraid to speak out but that doesn't mean there are no problems. Their silence is a minus for the government. If they want improvement, transformation, people should fight for their rights and their rights should be respected. Only in this way will there be a lasting peace."
But one man said employment was the greatest problem, a comment that is hard to argue with since 600,000-800,000 Tajik citizens now work as migrant laborers in Russia and Kazakhstan.
"Unemployment -- when a person cannot find work they will protest," he said. "Corruption is also a problem. Everyone is taking bribes, like that policeman standing over there. Of course it is bad when they don't pay attention to the constitution; they do not work according to the constitution for 16 years now. The problems we had [years ago] remain and now we have even more problems."
And another woman said new restrictions on practicing religion are a problem.
"Of course, all sides should support the peace but what we see with rules against wearing the veil, the prohibition against having loudspeakers in the mosque, forbidding young people from attending mosque, all these restrictions ruin the lives of the people who just want to live as they wish," she said. "And from the experience of the civil war we know that confrontation leads to war, so I think [the authorities] should not violate rights."
RFE/RL's Tajik Service compiled a list of the country's priority problems according to responses in interviews and from visitors to its website. It has those responses along with reports about the peace anniversary.
(Salimjon Aioubov of RFE/RL's Tajik Service contributed to this report.)
RFE/RL Central Asia Report

SUBSCRIBE For regular news and analysis on all five Central Asian countries by e-mail,
subscribe to "RFE/RL Central Asia Report."