With more than 99 percent of the votes counted, the AK party has won over 46 percent of the vote -- more than double that of its nearest rival. That would translate into 340 seats in the 550-member parliament.
Erdogan spoke late on July 22 to thousands of supporters outside the AK party's headquarters in the capital, Ankara. He said that "unity, democracy, and the republic have emerged stronger from the ballot box."
He also promised to pursue Turkish membership in the European Union. "We will consistently continue to work toward EU membership in accordance with the goals of our republic," he said. "Our nation's interests and desire for a better life will always be our guide and our goal."
European Commission President Jose Manuel Barroso congratulated Erdogan today and noted his commitment to closer EU ties.
British Foreign Secretary David Miliband called for the EU to "reach out" to the new government in Turkey. The Vatican said the outcome of the election is "the best result for Europe and the Christian churches."
Only two other parties crossed the 10 percent threshold into parliament
-- the secular Republican People's Party (CHP) on 20.9 percent (112
seats in parliament) and the Nationalist Action Party (MHP) with 14.2
percent (71 seats). Several mainly Kurdish independent candidates also
won seats in the assembly.
The snap election was called by Erdogan to defuse a political crisis over the Islamist-oriented ruling party's choice of presidential candidate.
The county's powerful military and secular parties had objected to the candidacy of Foreign Minister Abdullah Gul, saying Turkey's secularism was in danger, a claim denied by the AK party.
(compiled from agency reports)
Who Speaks For Islam?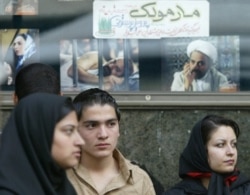 Young Muslims at a movie theater in Tehran (AFP file photo)


CROSS-CULTURAL DIALOGUE: On June 13, RFE/RL hosted a roundtable discussion entitled "Who Speaks For Islam?" The event was hosted by U.S. Undersecretary of State for Public Diplomacy and Public Affairs Karen Hughes and featured scholars of Islam from the United States, Europe, and the Middle East.
LISTEN
Listen to the entire briefing (about 2 hours and 15 minutes):

Real Audio
Windows Media
RELATED ARTICLES
Undersecretary Of State Pushes For More Interfaith Dialogue
Prominent Western Muslim Rejects 'Clash Of Civilizations' Idea
Scholar Warns Europe Of 'Clash Within Civilization'
Antiterrorism Battle Can't Be Won Without Full Muslim Involvement

A thematic webpage devoted to issues of religious tolerance in RFE/RL's broadcast region and around the globe.