According to the reports, the July 27 face-to-face meeting in Abu Dhabi lasted about an hour.
Spokesmen from both sides would neither confirm nor deny the reports, which come amid speculation that Musharraf may seek Bhutto as an ally in his plans to seek another term.
Bhutto served as prime minister twice in the 1980s and 1990s, but left for Britain after her second government collapsed.
(AP)
Madrasahs And Tolerance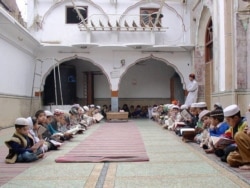 Students at a madrasah in Peshawar, Pakistan (epa file photo)

INSIDE THE MADRASAHS. The role of the traditional Islamic school, or madrasah, is being increasingly discussed. Many in the West and in the Muslim world have criticized some madrasahs for teaching intolerance and even violence...(more)
RELATED ARTICLES
Pakistan Madrasahs Reject Government Crackdown Efforts
Central Asian Madrasahs Lead Religious Teaching Revival
The Role Of Religion In Classrooms
Pakistan President Says Some Madrasahs Breed Terrorists
ARCHIVE
RFE/RL reporting on Afghanistan, Pakistan, Iraq, Iran, Tatarstan and Bashkortostan, and Central Asia.