The Kazakh government has been in conflict with the Hare Krishna community since last fall, when Almaty Oblast officials decided to demolish houses belonging to Krishna followers living on the outskirts of Kazakhstan's largest city, Almaty.
Houses Being Demolished
An outcry by international human-rights organizations and Krishna communities worldwide led the Kazakh government to set up a special commission in October 2006, to handle the situation.
"The accusations of religious discrimination are the last nail in the coffin of religious tolerance in our country."
But since then, Almaty regional authorities have demolished about 20 houses belonging to Hare Krishna followers, leaving many families without homes.
As recently as June, 10 Hare Krishna families had their houses demolished on the orders of local officials in the Qarasai district of Almaty Oblast.
Krishna devotee Rano Yegorova has been living with her family on the roof of her friend's summer house since her house was demolished on June 15. Yegorova and her husband bought their house three years ago. But they are now reliant on their friends' charity after watching their home get bulldozed.
Anna Konovalova moved from the Russian city of Vladivostok to Almaty four years ago. Her dream was to join the Hare Krishnas in Almaty, which is known as the largest such community in the former Soviet Union.
Konovalova used all of her money to buy a home in the Almaty suburbs. But after having her house demolished by Kazakh officials, she now lives in the Hare Krishna temple. Prior to the destruction of her house, Konovalova worked at home. She has now lost both her home and her workplace.
Official: Not Religious Descrimination
Maksim Varfolomeyev, press secretary of the Kazakhstan Society of Krishna Consciousness, says that even though local authorities try to convince people that the decision to demolish homes belonging to Krishna members has no political or religious motive, Varfolomeyev says he strongly believes those are exactly the reasons for the demolitions.
Amanbek Mukhashev, the deputy chairman of the Almaty regional Department on Religions, says the recent demolitions have nothing to do with bias towards Krishna members. Mukhashev also claims that Almaty regional officials plan to offer Krishna members who have lost their homes three sites on which they can build new houses.
He did not, however, specify when the sites would be offered to the families or if they would receive money to construct new homes. Meanwhile, the houses of Krishna devotees continue to be destroyed.
The chairman of the Kazakh Bureau on Human Rights and the Rule of Law, Yevgeny Zhovtis, said that only houses belonging to Krishna members are being demolished in the Qarasai district, adding that other nearby houses have not been touched.
According to Zhovtis, the selectiveness of the demolition of so-called "illegally raised buildings" leads one to conclude that the whole operation is aimed against the Kazakhstan Society of Krishna Consciousness.
Protestants Also Harassed
There are other cases in which people of religions other than those traditionally recognized in Kazakhstan -- Sunni Islam and Orthodox Christianity -- also experienced harassment from Kazakh officials.
According to the Olso-based Forum 18, an organization that monitors violations of religious freedom, South Korean Presbyterian Pastor Kim U-sob was expelled from Kazakhstan in November 2006 for "missionary work without registration." Before being expelled, Kim had led the Love Presbyterian Church in the southern town of Qyzyl-Orda for eight years. He was convicted and subsequently refused a visa extension, forcing him to leave the country.
That same month, American Daniel Ballast, the vice president for the international program for the Marshall Christensen Foundation in Kazakhstan, was charged with "teaching the bible" at his church. He had lived in Kazakhstan for 13 years.
After appealing an Oskemen city court ruling that he be fined and then deported, Ballast argued that the Kazakh Constitution gives him freedom of speech in his own church. The state court upheld his guilty conviction and ordered him to pay a fine of about $450.
Forum 18 reports that in June, a Baptist convert and her young child were barred from going to their home in the southern city of Shymkent. This occurred after a local court had ordered the Baptist church they attend to be closed after it refused to halt its activities after it refused to officially reregister with state officials.
And this month in the northeastern town of Semey, Baptist Pastor Viktor Kandyba, his wife, and their 12 children were threatened with the seizure of half of their home after he refused to pay a fine for leading an unregistered worship service in one portion of the house. According to Kandyba, nobody has yet seized his home, but he said he expects it to taken.
Those are just some of the examples that have been reported to RFE/RL in which members of unofficial religions face problems in Kazakhstan, a country whose constitution proclaims freedom of religion and respect for human rights.
"The situation around the Krishna Society and its member's houses is ridiculous," says Ninel Fokina, the chairwoman of the Helsinki Committee in Almaty.

"Kazakhstan officials try to persuade the whole world that the state does not discriminate against religious minorities and waits for what the local administration of the Qarasai district is going to decide about the property of the Krishna Society. That casts doubt on the belief that, in fact, all religions are equal here," she notes.

"Why are the officials so desperate to deny the religious character of the conflict between the Krishna Consciousness Society and local authorities? The answer is simple: the accusations of religious discrimination are the last nail in the coffin of religious tolerance in our country."
Islam And Politics In Central Asia
Islam And Politics In Central Asia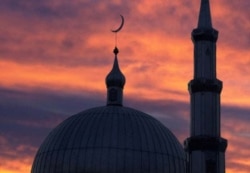 The Khodji Mashrab Mosque in Dushanbe (TASS file photo)
ACTIVISTS AND AUTOCRATS: Eric McGlinchey, assistant professor of government and politics at George Mason University, told an RFE/RL briefing that Islam-centered political movements present the most coherent challenge to autocratic governments in Central Asia.
LISTEN
Listen to the entire briefing (about 60 minutes):

Real Audio
Windows Media
RELATED ARTICLES
Central Asian Security Services Take On Religious Dissent
Family, Followers Reject 'Terrorist' Claims Against Slain Cleric
Hizb Ut-Tahrir's Calls For Islamic State Find Support
Imam Extends Welcome To Hizb Ut-Tahrir

A thematic webpage devoted to issues of religious tolerance in RFE/RL's broadcast region and around the globe.