But it might have come as a shock that the Nur Otan party won all 98 seats that were being contested. In fact, it was the first time in independent Kazakhstan's election history that not a single candidate who might accurately be described as "opposition" won a seat.
For many, another surprise came when the OSCE department charged with monitoring elections, the Office of Democratic Institutions and Human Rights (ODIHR), noted some progress in the Kazakh vote -- despite falling short of international standards. RFE/RL correspondent Bruce Pannier talked with ODIHR spokeswoman Urdur Gunnarsdottir to get some insight into what it is that election observers do.

Urdur Gunnarsdottir:
It's like we are holding up a mirror, and this is what you see. We're not interfering in [the elections] in any way -- we're not part of the process, and that's incredibly important for us because people sometimes address us as if we are election police.
In all cases, it basically starts with an invitation from the authorities. And we maintain contact with the authorities -- the government -- throughout, but we also maintain contact with the media, with NGOs, with the political parties -- opposition and governing parties -- with the election administration, with a number of people. We try to look at the election from all sides.
So the team, in the case of Kazakhstan, they were there in Kazakhstan about two months ahead of the election and basically hit the ground running. They start monitoring the media, seeing how much coverage the different political parties are getting and the tone of that coverage. They establish contacts with the election commission and see how the preparations are going. They establish contacts out in the regions with political parties there, and with media, and with anyone who is involved in the election there. And [they] follow the campaign to see how the campaign is going and follow the preparations on many, many levels.
RFE/RL:
That is the work of the long-term observers. And it is then compiled, [and] additional basic information is added and made available to the short-term observers.
Gunnarsdottir:
This [information] then feeds into preparing the short-term observers that come in just a few days before the election. And it differs how many short-term observers we get -- in Kazakhstan, we had around 400. And we brief them on what we have seen, and how the system is, and what the law says, and what they can expect -- for instance, whether they can expect electronic voting in a place or not.
But this also feeds into this preliminary statement, or the preliminary findings, that we do the day after the election, which is based on our [observations] until election day and then on the more statistical outcome of election day and election night.
RFE/RL:
But how does the ODIHR select locations for observers on election day?
Gunnarsdottir:
We leave that up to the monitors. What we do is: the country is divided into regions, and we divide sometimes the regions into subregions and have people in each place. They then divide it up even further and assign two monitors to an area -- it may be a part of a city or a few villages and towns in a certain area -- and they are then given a list of all the polling stations in that area.
And the day before the elections, they drive around and they can get acquainted with the area and they can have a look in the polling stations and see how the preparations are going. They may get some ideas of where they want to go and observe, or they may just want to move around and try to get a fair idea of the area.
They don't announce their arrival in advance because we want to see things as they are -- we don't want people to be preparing for our arrival, we want to see how the voting is really going, so it is not decided in advance.
RFE/RL:
What happens when election day arrives and the observers are at their chosen sites?
Gunnarsdottir:
All our monitors, all our observers, are equipped with quite a lengthy list of points that we ask them to look at. And it basically concerns everything that you could come up with.
It is everything from the moment that you approach the polling station -- whether there are any people milling around the polling station that shouldn't be there or whether there's any advertisement or propaganda material too close to the polling station -- to the atmosphere at the polling station, how many people have voted, how many [are] on the list, have there been any problems, have any people been added to the list, how the whole process is going. So they have to fill out this checklist, which is about two pages long.
RFE/RL:
While observers are required to remain strictly neutral and not interfere, do they have the right to ask questions?
Gunnarsdottir:
They are free to ask questions, but they are observers so they are not free to interfere in any way. They are free to ask questions -- and we encourage them to ask questions and they need to, because there is a lot of facts they need to establish. They are free to talk to anyone -- a voter, a domestic observer, the polling-station commissions -- anyone, for that matter.
But they do not interfere. So if they see something that they know is not right, they can point it out but they cannot, for instance, demand that it [be] stopped -- because they are observers, they are not part of the process, they are observing it.
RFE/RL:
These lists are sent regularly throughout election day to a central ODIHR location, where the information is collected and used for the preliminary report that ODIHR releases the day after an election. While parts of the ODIHR's preliminary assessment credited Kazakhstan for some progress in the recent election, there was also ample criticism.
Gunnarsdottir:
We are mandated to describe what we see. And, for instance, what we saw was that they [opposition parties] had some ability to convey their messages to voters. But we also recognized very much in our findings that they had problems, as well.
So it's a mixed picture. And of course it is not a black-and-white picture when you are in a country for two months and when you have this many people. And the reporting, of course, focuses on a few points. And if you go into our findings and read them through, you see a much more diverse picture. And there it is described where you see progress in some areas and regress in others.
Kazakhstan And The OSCE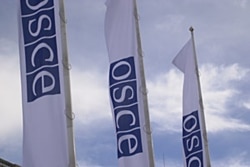 READY TO LEAD THE OSCE? Kazakhstan has been lobbying to be granted the rotating chair of the Organization for Security and Cooperation in Europe (OSCE) in 2009. In March, current OSCE head Karel De Gucht visited the country and said Kazakhstan is better prepared to head the OSCE than any other Central Asian country. But concerns about the state of democracy, the media, and ethnic relations make Kazakhstan's bid extremely controversial....(more)
RELATED ARTICLES
OSCE Says Kazakh Presidential Vote Flawed
OSCE Says Kazakh Obligations Not Met Ahead Of Vote
OSCE Offers Amendments To Kazakhstan's Draft Media Law
ARCHIVE
RFE/RL's
coverage of Kazakhstan
. The website of
RFE/RL's Kazakh Service
.