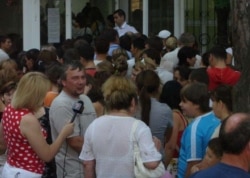 A BUREAUCRATIC EXCHANGE: RFE/RL Romania-Moldova Service correspondent Elena Moldoveanu recently took to the streets to speak to people lined up near the offices of the Population Registry Bureau in Chisinau.
While conducting interviews, she was confronted by the head of the bureau, who asked the correspondent to leave despite the fact that Moldoveanu was not on the bureau's property.
Their exchange grew to include onlookers, additional bureau personnel and, eventually, police...more...
LISTEN
To listen to the exchange (about six minutes), in Romanian,
click here.