Pakistan Tests New Cruise Missile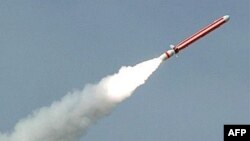 A Babur Haft-VII missile being test fired in late July this year (AFP) August 26, 2007 -- Pakistan's military says it has successfully test-fired a new Hatf-VIII cruise missile capable of carrying nuclear weapons.
A military statement said the missile, named Raad, or "Thunder" in Arabic, has a range of 350 kilometers and can carry all types of warheads.
It said the missile was developed indigenously by Pakistan. Pakistan and its neighbor India -- both nuclear powers -- routinely carry out missile tests.
(dpa, AFP)