The delegation was in Prague today on a trip that will also take them to Hungary and Poland. Representatives Albio Sires (Democrat, New Jersey), Lincoln Diaz-Balart (Republican, Florida), and Mario Diaz-Balart (Republican, Florida), spoke with RFE/RL correspondent Jeremy Bransten about how the international community views Cuba and what keeps Fidel Castro in power despite widespread disenchantment on the island.
RFE/RL:
Congressmen, you are visiting several postcommunist countries which have direct experience with totalitarian regimes yet today are successful democracies. Can you tell us a little about the purpose of your visit?

Albio Sires:
We decided to take this trip really in appreciation of the Czech people's support for democracy on the island of Cuba, plus the example that the Czech people are to the world in terms of transitioning over the years into the democracy you have [in the Czech Republic] today. We are very grateful, we are very supportive of what has been done [here] and we hope that it will serve as a model for the future when there is no Fidel Castro in Cuba so that we can transition into a democracy.
Mario
Diaz-Balart:
There's a lot to be learned from those who have already gone through it. Obviously, every experience is different. You can see that in Europe. You can see that the experience of Hungary is different from the experience of the Czech Republic and of Poland. However, all those countries have had to go through some difficult times, difficult transitions from totalitarian regimes to free, open societies. But they have all learned from those mistakes. And those are lessons that can be shared.
RFE/RL:
As you meet government figures and other former dissidents, are you finding much understanding for the struggle in Cuba?
Lincoln Diaz-Balart:
Across the political spectrum in these countries that suffered communism directly and personally, across the political spectrum and with very few exceptions, there is a realization that it is important to continue pressing for freedom and assisting the opposition in countries where freedom does not yet exist. And so we are going to be thanking our friends, as we have here in the Czech Republic, in Hungary, and in Poland for their solidarity and their assistance to the pro-democracy movement.
RFE/RL:
How has Cuban leader Fidel Castro managed to stay in power for so long?
Lincoln Diaz-Balart:
Well, first of all, [through] an unprecedented degree of terror never seen before in the Western hemisphere. It may have been seen here in Europe but that degree of terror is unprecedented in the Western hemisphere.
Also, the fact that Cuba is an island and it is very difficult to get in and out of and it is thus very difficult to organize getting in and out of, and many other things that come to mind in regards to liberation movements, and it is easier for a totalitarian, absolutist regime that has vigilance committees on every single block of every single town to keep people in line.
RFE/RL:
Are there other factors also in play?

Lincoln Diaz-Balart:
It is undeniable that the lack of solidarity from the geographic neighbors of the Cuban people, with the exception of the United States, has been a factor. The Cuban people were always extremely forceful in their support for freedom and democracy throughout Latin America and every time there was a military coup it was the Cuban people and civil society in Cuba that rose up and demanded solidarity with an oppressed people, but that solidarity has not been reciprocated.
RFE/RL:
Why not?
Sires:
One of the aspects is the [evolution]of this regime. First there was a romance with this revolution, with this guy with his beard. Now people are starting to see exactly what it is, it is a totalitarian government, there is no freedom of movement, no freedom of speech, dissidents are put in jail, people are shot, there have been the firing squads over the years, so I think that romance that was at the beginning, in the late '50s early '60s, now people are starting to see the real man.
Building Democracy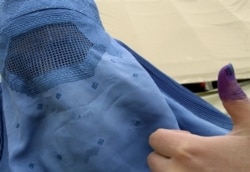 An Afghan woman votes in Kandahar in October 2004 (AFP)
ROWING AGAINST THE TIDE:
National Endowment for Democracy President Carl Gershman and Hudson Institute Senior Fellow John O'Sullivan led an RFE/RL briefing about U.S. efforts to promote democracy around the world, and especially in the Middle East.
LISTEN
Listen to the entire briefing (about 55 minutes):

Real Audio
Windows Media
RELATED ARTICLES
U.S. Reports On Democracy-Promotion Efforts
Is Bush Abandoning Democracy Building In Iraq?
Karen Hughes Urges Dialogue Based On 'Common Values'
SUBSCRIBE
For a regular review of civil-society developments throughout RFE/RL's broadcast region,
subscribe to "RFE/RL (Un)Civil Societies."