Today marked the official launch of the Dutch Ex-Muslim Committee, the latest such group to emerge in Europe. The groups say they want to make it easier for people to renounce Islam -- and draw attention to places where leaving the faith is punishable by death.
The new group is headed by Ehsan Jami, a 22-year-old Dutch politician of Iranian origin.
The group's creation follows the launch this spring of a German council for former Muslims.
Other groups soon followed suit in Scandinavia, and in Britain.
"If these groups in Europe are able to draw attention to the worldwide problem, this is of great benefit." -- Paul Marshall, Hudson Institute's Center for Religious Freedom
Rights activist Maryam Namazie, the force behind the Council of Ex-Muslims of Britain, said that even for those living in Europe, it's not easy to renounce Islam. Those who do face threats and intimidation. "So we thought if we could have an organization based on the German model where you could actually have people's faces and names who announce that they want to renounce Islam, it would make it easier," Namazie said.
She says her group aims to "break a taboo" about leaving Islam, and to present a more varied image of Muslims and people of Muslim background.
Membership is small: Namazie says her group still only has some 70 members, while the German group claims around 600-700.
But she says this is likely a small fraction of the number of former Muslims in Britain. "It's not an organization that people can become members of easily because of the threats and intimidations that surround it. And so I think in reality each member that does put his name and face to the organization represents many more who are unable to do so right now," she said.
Fear of Persecution
To be sure, all these groups have sprung up in the relative religious freedom of Western Europe.
It's a long way from countries like Afghanistan, Iran, and Saudi Arabia, where apostasy is punishable by death.
But Namazie says she herself has received death threats. Mina Ahadi, who set up the German council, is under police protection. And Jami of the Dutch group is reportedly now living in a secret location after being assaulted.
Paul Marshall, a senior fellow at the Hudson Institute's Center for Religious Freedom, says initiatives like these groups have the potential to be helpful by highlighting what he calls a major issue worldwide.
"Many ex-Muslims around the world are persecuted, some are killed, others are imprisoned and very many live in fear. So this is a huge issue," Marshall said. "If these groups in Europe are able to draw attention to the worldwide problem this is of great benefit."
But the latest initiative has drawn criticism, too.
Today's launch comes on the anniversary of the September 11, 2001, terrorist attacks in the United States -- a date chosen for its associations with militant Islam.
Han Noten, a senator from Jami's Labour party, said the choice of date was a provocation. "It suggests the issue is about the innocent and the guilty, with former Muslims being innocent and Muslims guilty," he wrote.
And even some other Dutch ex-Muslims have been critical, too.
"We defend the right to be able to walk away from any religion, including Islam," one of them, Behnam Taebi, said in a statement. "But they are using that right as a cover to categorically insult Muslims and to stigmatize them as 'violent' and 'terrorists.'"

Islam In A Pluralistic World
Islam In A Pluralistic World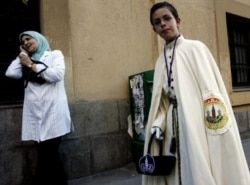 A Muslim woman (left) watches a Christian procession in Madrid in March (AFP)


READ
CONFERENCE ON ISLAM:
A major international conference on Islam concluded in Vienna in November 2005 with strong appeals from prominent Muslim leaders to recognize international terrorism as simply "terrorism." Political figures from Islamic countries, including the presidents of Iraq and Afghanistan, argued that it should never be labeled "Islamic" or "Muslim" terrorism because Islam is based on peace, dialogue, and tolerance. "Salaam" -- meaning "peace" -- was the key word of the three-day conference, titled "
ISLAM IN A PLURALISTIC WORLD
."
Iraqi President Jalal Talibani and Afghan President Hamid Karzai used the word in their remarks to emphasize the peaceful nature of Islam. Other speakers quoted passages from the Koran to the effect that all men and women, regardless of faith, are creatures of God and should live in peace with each other without discrimination
...(more)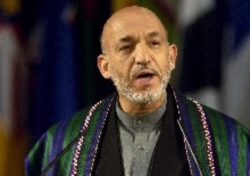 LISTEN
Listen to Afghan President
HAMID KARZAI
's complete address to the Vienna conference (in English):
Real Audio
Windows Media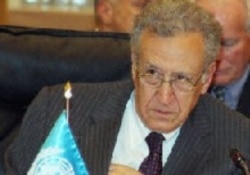 LISTEN
Listen to UN special envoy
LAKHDAR BRAHIMI
's complete address to the Vienna conference (in English):
Real Audio
Windows Media
THE COMPLETE PICTURE:
Click on the image to view a thematic webpage devoted to issues of religious tolerance in RFE/RL's broadcast region and around the globe.