'Equal, Not An Intermediary'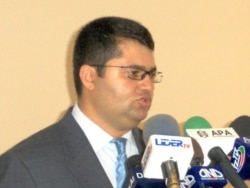 Azerbaijani Foreign Ministry spokesperson Khazar Ibrahim spoke to RFE/RL's Azerbaijani Service acting Director Kenan Aliyev ahead of a meeting on September 18 between military experts from Azerbaijan, Russia, and the United States.

RFE/RL: What is Azerbaijan's position in these negotiations and in what capacity is Azerbaijan participating?

Khazar Ibrahim: As you know, the Qabala [Gabala] [radar] station is owned by Azerbaijan and is leased to Russia for 10 years. The agreement was signed in 2002 and Azerbaijan's stance on this issue is quite clear and it has been aired repeatedly. Azerbaijan is in favor of a more stable and secure regional and international environment and therefore any steps toward this goal are welcome and Azerbaijan will do its best to contribute to this end.

RFE/RL: What does Azerbaijan hope to gain from acting as an intermediary between the United States and Russia on this issue?

Ibrahim: I wouldn't call Azerbaijan an intermediary because Azerbaijan is taking part as an equal on this issue and, as I mentioned already, the Qabala station is under Azerbaijan's ownership and Azerbaijan's only goal is to contribute to regional and international peace, security, and stability and therefore whatever the outcome we hope that it will be for the good of the people of the region and the world.

RFE/RL: How does Azerbaijan balance its interests between Russia, the United States, and Iran without aggravating anyone? For example, we know that Iran is concerned about this possibility that the radar station will be used jointly by Russia and the United States.

Ibrahim: Azerbaijan has always stated that its foreign policy is truly based on its national interest and therefore every step, we very much think about our national interest and also regional and international security is very important for us. We have strategic partnerships today with the United States. We have rapidly growing relations, friendly and neighborly, with both Russia and Iran and therefore we don't want to see any conflict situations between any of these nations. In general, we want to have the region more stable and secure because unfortunately for quite a long time our region has been overwhelmed with conflicts.

RFE/RL: Azerbaijani Defense Minister Safar Abiev said on September 10 that Azerbaijan will find a way to use Qabala if Russia doesn't extend its lease after 2012. What would Azerbaijan use it for?

Ibrahim: Well, right now, we have this agreement with Russia until 2012 and after that, of course, it will stay under the ownership of Azerbaijan and whatever the decision will be, it will be used for that purpose. I can't clearly say for what purpose and in cooperation with which country, but definitely if it's owned by Azerbaijan -- and it is owned by Azerbaijan -- then Azerbaijan will find the right use for this station and of course will try our best to use it as much as possible for the interests of the region and of the world.