Fatal Violence In Ingushetia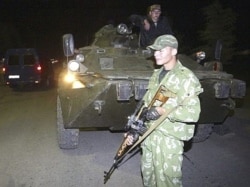 Russian Interior Ministry troops patrol a road to Nazran (AFP)
June 17 -- A militant suspected of opening fire at an Interior Ministry mobile squad in May is killed in the Ingush village of Surkhakhi.
June 29 -- A man is killed by a bomb planted near a health center in Karabulak.
July 4 -- The deputy head of Nazran's Pliyevo municipal administration, Khavazh Daurbekov, is shot and killed by unidentified gunmen.
July 17 -- The residential area and the house where Ingush President Murat Zyazikov and his relatives live comes under grenade fire.
July 16 -- Mathematics teacher Lyudmila Teryokhina and her two adult children are found shot dead in their house in the village of Ordzhonikidzevskaya.
July 18 -- Seven people are wounded in an explosion at a cemetery in the community of Ordzhonikidzevskaya. The incident occurs during the funeral of teacher Lyudmila Teryokhina and her two adult children, who were murdered July 16.
July 21 -- Unidentified gunmen kill Vakha Vedzizhev, the chief specialist with the Ingush Interethnic and Public Relations Ministry at Vedzizhev in Karabulak.
July 28 -- One serviceman is killed after the building housing the Ingush department of the Russian Federal Security Service (FSB) in Magas comes under fire.
August 1 -- An Ingush man is killed after he fires at police. An antitank grenade launcher, a submachine gun, and a rifle-mounted grenade launcher are found in the man's car.
August 23 -- One serviceman is killed when an armored personnel carrier hits a mine outside the village of Sur-Khaki in Nazran district.
August 24 -- Unidentified attackers kill two Daghestani sheep herders.
August 29 -- An armored vehicle runs over two cars in Nazran, killing three people. One border guard is killed and another wounded after their vehicle comes under fire in Nazran.
August 31 -- The husband and two sons of a female teacher are killed in Karabulak. Four police officers are killed when an UAZ vehicle blows up in Nazran.
September 2 -- A VAZ-2110 car and an armored vehicle of the Ingush interior forces collides on the Kavkaz federal highway in Ingushetia, killing two local residents. A local resident is killed in a shooting involving Interior Ministry soldiers in Karabulak.
September 7 -- Natalya Muradova, the chief physician of a blood transfusion center in Nazran, is shot dead by unidentified attackers.
September 8 -- A Russian Interior Ministry base in Malgobek comes under fire, killing one Interior Ministry serviceman. Two militants are killed in an ensuing chase.
September 11 -- Three members of a Roma family are shot dead in the village of Ordzhonikidzevskaya in the Sunzha district.
September 17 -- Unidentified attackers shoot and kill a Federal Security Service (FSB) officer in Ingushetia.
September 20 -- Two servicemen are killed in an armed attack in Nazran.