Explaining the EU decision, the bloc's external relations commissioner, Benita Ferrero-Waldner said the EU remained "very concerned" about the human rights situation in Uzbekistan. But she highlighted Uzbek participation with the EU over the last year in two discussions on the Andijon events, one round of human rights talks, as well as the conditional release of some political prisoners and the abolition of the death penalty.
She said all of this was enough for the EU to offer Tashkent a gesture of goodwill. "Whether this will take us somewhere, we will have to see," Ferrero-Waldner said. "But I think we have to at least try, very, very clearly. And as I said it's the most populous country [in the region], it is a country in our Central Asian Strategy; I don't think we should just leave it out. I think we should engage with them and clearly try to work step by step in order to improve the situation of human rights."
Reacting To Bloodshed
The EU slapped sanctions on Tashkent amid an international outcry after Uzbek authorities forcefully ended an uprising in Andijon in May 2005. The Uzbek government blamed Islamic militants for instigating the Andijon violence and says some 190 people died there, but rights groups say hundreds of mainly unarmed demonstrators were killed.
The EU sanctions had already been eased when the bloc took some officials off the visa ban list earlier this year. Now rights groups say the EU has given up what leverage it had. Human Rights Watch called the move a travesty and an inappropriate reward for Tashkent.
Others were even harsher. "They're forgetting Andijon, they're giving up on all the victims who were shot on the square on that day and all the people who were subsequently rounded up and tortured," said Andrew Stroehlein, the media director for the International Crisis Group.
But Stroehlein said it wasn't just what happened in May 2005 – it's everything that has gone on since then in Uzbekistan, such as show trials, the arrest of activists, and torture. "We've had two UN rapporteurs on torture go to the country in the last few years and say that torture is systematic, it's part of the entire system, the entire apparat in the country," he said. "It's a brutal torturing regime, and this is the regime that you lift your sanctions on and get rid of them? For what? What did they do? They've done nothing."
There are worries, too, that the move could undercut European Union efforts elsewhere. "My concern is, what message do you then send to countries like Kyrgyzstan, which have chosen a tougher way with promoting democracy?" says Cem Oezdemir, a German member of the European Parliament and co-author of a parliamentary report on Central Asia. "Because if your message is, 'Well, you can do such a massacre and more or less nothing will happen afterwards,' it is tough to tell the Kyrgyz people they should continue with having a moderate constitution, with having a parliamentarian system and so on. So I believe there should be consistency in the policies we are doing."
The decision represents a reverse for those EU member states that argued for a tougher line and would have rather seen the sanctions toughened. Represented most consistently by Britain, the Netherlands, Ireland and Sweden, this group argued the Uzbek concessions are not backed up by substantive changes in Tashkent's human rights policy.
German Policy Wins
The day was carried by those member states, led by Germany -- the author of the EU's Central Asia Strategy -- and the current holder of the EU's rotating presidency, Portugal. They argued that continued isolation of Uzbekistan would only cost the EU influence in the strategically important, energy-rich region, contested by Russia and China.
Tolib Yoqubov, who heads the Human Rights Society of Uzbekistan from exile, says human rights have lost out to practical concerns. "The government of Uzbekistan has played this game with the world community and with its own people for 18 years. The European Union got involved in this game," Yoqubov said. "They either do not see the Uzbek government's lies or pretend not to see them. Unfortunately, double standards seem to dominate. Some EU countries do not seem to understand the nature of dictatorships or they rather pretend to not see it because of certain interests. It is a pity."
In six months, the EU must decide whether Uzbekistan has done enough to meet the conditions attached to the October 15 decision. These include the demand for full cooperation with UN representatives, the honoring of the country's international obligations relating to fundamental rights and the rule of law, the granting of access to political prisoners to international relief organizations, the accreditation for work in Uzbekistan of international nongovernmental organizations, the release of all jailed human rights defenders, and an undertaking to put a stop to their harassment.
EU officials say it is understood that the visa ban is highly unlikely to be reimposed. There is no precedent for an EU suspension of sanctions being overturned. "It would take another Andijon," one official told RFE/RL.
(with Ahto Lobjakas in Brussels, and Jeremy Bransten, Khurmat Babadjanov, Kathleen Moore, and Gulnoza Saidazimova in Prague)
Andijon Anniversary Conference
Andijon Anniversary Conference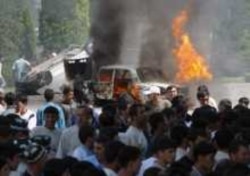 Violence in Andijon, Uzbekistan, on May 14, 2005 (epa)


TALKING ABOUT ANDIJON:
On May 9, 2006, RFE/RL, the National Endowment for Democracy, and U.S.-based human rights organizations cohosted a conference on the May 2005 events in Andijon and their aftermath in Uzbekistan and throughout the region. The first panel featured Andijon eyewitness
GALIMA BUKHARBAEVA
, National Endowment for Democracy Fellow
NOZIMA KAMALOVA
, RFE/RL Central Asia analyst
DANIEL KIMMAGE
, and others. The second panel featured presentations by U.S. Senator
JOHN MCCAIN
and U.S. Congressman
CHRISTOPHER SMITH
, who used the forum to announce they had introduced legislation calling for sanctions and other measures against the government of President Islam Karimov.
LISTEN
Listen to the Andijon conference. Part One (70 minutes):
Real Audio
Windows Media
Part Two (60 minutes):
Real Audio
Windows Media
The Uzbek government's response:
Real Audio
Windows Media


THE COMPLETE STORY: A dedicated webpage bringing together all of RFE/RL's coverage of the events in Andijon, Uzbekistan, in May 2005 and their continuing repercussions.
CHRONOLOGY
For an annotated timeline of the Andijon events and their repercussions, click here.