Setting out plans for the first 100 days of his coalition government, Gilani told parliament on March 29 that "terrorism and extremism" were the country's "greatest problems."

Gilani said the new government would remain committed to its endeavor against this menace.

'Path Of Peace'
But he also said the new cabinet was ready for talks with militants who lay down their arms.

"It is our top priority to bring peace to the country and fight terrorism. War against terror is our own war because many of our innocent children and soldiers have died as a result of it," Gilani said. "Unfortunately, some of the people have adopted a violent way to express their opinion. Now, when the country has commenced its journey of democracy, I request all of those to quit the path of violence and join us. We are ready to hold talks with all those people who will lay down their arms and adopt the path of peace."
"We are ready to hold talks with all those people who will lay down their arms and adopt the path of peace." -- Gilani
Gilani is a member of the opposition Pakistan People's Party (PPP), whose leader, former Prime Minister Benazir Bhutto, was assassinated in December.

He was sworn in as prime minister on March 25 at the head of a coalition between the PPP and the Pakistan Muslim League-Nawaz (PML-N) of another former prime minister, Nawaz Sharif.

The parties' success in the February 18 general election was seen as a blow to President Pervez Musharraf, who grabbed power in 1999 in a bloodless coup.

Hundreds of people, including many Pakistani security personnel, have died in a wave of violence, including suicide bombings, in the past year blamed on Al-Qaeda and pro-Taliban militants. President Musharraf has sent tens of thousands of troops to curb militant activities in the country's tribal areas near the Afghan border.

Outside Interested
U.S. Deputy Secretary of State John Negroponte and Assistant Secretary of State for South Asian Affairs Richard Boucher were in Pakistan this week to urge the new government to continue cooperation in the fight against terrorism.

In Islamabad on March 28, Boucher held out the prospect of increased assistance for the new government, while stressing the need to work together to fight Islamist militancy.

"We all know there are some very dangerous people who are up there, people who are plotting and planning attacks on Pakistan, on Afghanistan, on Europe, on the United States, and other places in the world," Boucher said. "Somehow, we all need to deal with them. We're doing this in Afghanistan with the Afghan government and we want to work with the Pakistan government as well, as partners, together, to make the people of all our countries safer."

Washington fears that confrontation between Musharraf and Gilani's government could fuel instability in nuclear-capable Pakistan.

But in Karachi on March 27, Negroponte rejected suggestions that the United States was trying to dictate antiterrorism policy to Pakistan's new government.

"There was no hidden agenda and certainly no desire to interfere or intervene in any way in the political arrangements that are developing," Negroponte said.

Judicial Decisions
Speaking to lawmakers on March 29, Gilani also said the new government would seek to reinstate judges who were sacked after emergency rule was declared in November on the orders of Musharraf.

Some of these judges, including the Supreme Court's former Chief Justice Iftikhar Muhammad Chaudhry, have been kept under house arrest.
Chaudhry Nisar, a leader of the opposition PML-N party, told reporters outside parliament that Musharraf is "part of the problem" in Pakistan. He added that only after the president's removal from office can "Pakistan move forward on the road to prosperity and democracy."
Afghanistan And Pakistan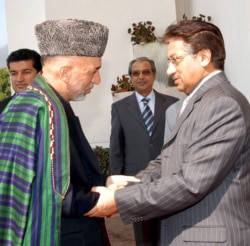 Afghan President Hamid Karzai (left) with Pakistani President Pervez Musharraf in Islamabad in October 2005 (epa)

ACROSS A DIFFICULT BORDER. The contested border between Pakistan and Afghanistan is some 2,500 kilometers long and runs through some of the most rugged, inhospitable territory on Earth. Controlling that border and preventing Taliban militants from using Pakistan as a staging ground for attacks in Afghanistan is an essential part of the U.S.-led international coalition's strategy for stabilizing Afghanistan. Officials in Kabul have been pointing their fingers at Pakistan for some time, accusing Islamabad or intelligence services of turning a blind eye to cross-border terrorism targeting the Afghan central government. Many observers remain convinced that much of the former Taliban regime's leadership -- along with leaders of Al-Qaeda -- are operating in the lawless Afghan-Pakistani border region.... (more)
RELATED ARTICLES
Pakistan-Afghanistan Conflicts Continue
Karzai, Musharraf Spar Ahead Of Bush Meeting
Musharraf Says Taliban Could Spark Pashtun 'National War'
Afghan Minister Attacks Pakistani Support For 'Terrorism'
Historical Context Of Afghan-Pakistani Relations
Afghanistan/Pakistan: 'Inseparable Twins' In Need Of Separation
ARCHIVE
RFE/RL
coverage of Afghanistan
. RFE/RL
coverage of Pakistan
.
SUBSCRIBE
For weekly news and analysis on Afghanistan by e-mail,
subscribe to "RFE/RL Afghanistan Report."