"Russia has crossed the line," Saakashvili said in Tbilisi, signaling that already-sour ties between Tbilisi and Moscow might have sunk to a new low.
Moscow last week took steps to formalize its relationship with Georgia's breakaway regions of Abkhazia and South Ossetia, a move Tbilisi called tantamount to forcible annexation. Several days later, an unmanned Georgian reconnaissance plane was shot down over Abkhazia in an incident Tbilisi has blamed on Moscow.
"Georgia is a constructive, peace-loving country," Saakashvili said. "We are interested in close, friendly relations with the Russian Federation, but we cannot put up with any measures that are aimed at annexing the most significant parts of our territory, at legitimizing the results of ethnic cleansing, and that at the same time could be used as a pretext to make Georgia change its foreign policy and change its own political system."
Saakashvili's remarks followed a closed-door discussion on April 23 of the crisis by the UN Security Council -- which ended, predictably, with no signs of compromise. Officials from Georgia and Russia traded barbs after that meeting.
The United States, Britain, France, and Germany had used the session to call on Russia to revoke its steps establishing closer ties with Abkhazia and South Ossetia.
Russia's UN ambassador, Vitaly Churkin, flatly refused. "Everything we are doing is perfectly legal, perfectly in line with international agreements, international law, so we don't see how one can complain about those things on legal grounds," he said.
Russian President Vladimir Putin last week ordered his government to formally recognize certain "legal entities" in the regions, and to tighten trade links. Churkin defended the move, saying it was Russia's "responsibility" to protect the welfare of the people living in the breakaway regions, many of whom -- by Moscow's design -- now hold Russian citizenship.
Out On A Limb
Irakli Alasania, Georgia's UN ambassador, told RFE/RL's Georgian Service he believed Russia found few supporters during the talks.
"During our discussions, almost all of the members of the council were extremely critical toward Russia," Alasania said. "Mr. Churkin's arguments and self-vindication at the session were not at all convincing."
Russia, routinely seen as hostile toward Georgia, has tacitly backed Tskhinvali and Sukhumi since the two separatist regions claimed de facto independence in the early 1990s.
Tbilisi, which is intent upon bringing the regions back under its control, sees Moscow as its biggest obstacle to restoring its territorial integrity. Many Georgian officials believe Moscow's current steps are meant to ratchet up the pressure at a time when a territorial dispute could wreak havoc with Georgia's NATO bid.
Georgia, together with Ukraine, received a strong show of support from the Western military alliance at this month's annual summit in Bucharest, although it was denied a Membership Action Plan (MAP) for the time being.
Tbilisi and Kyiv are each hoping to receive such an action plan, which would formally bring them onto the membership track, when NATO foreign ministers meet in December.
Alasania called on the West to help keep Tbilisi safe from Russia's increasingly hostile tactics. "We very much hope that the political pressure [on Russia] will continue until the aim has been achieved," he said. "The aim is to force Russia to change its aggressive policy toward Georgia."
He added that "the problem can't be solved only through communiques and statements by the Security Council," and went on to urge Western governments to "work with Russia not only at the UN, but also at other international organizations as well as individually, on a bilateral basis."
U.S. Secretary of State Condoleezza Rice met with Georgian Foreign Minister David Bakradze before he attended the Security Council debate. Rice said she had discussed the range of issues with Russia, but stopped short of offering Georgia full U.S. support, saying the matter must be worked out on a state-to-state basis between Russia and Georgia.
Abkhaz Incident
A statement from the Western countries on the Security Council also declined to take a stance on this weekend's downing of an unmanned Georgian reconnaissance plane over Abkhaz territory.
Tbilisi has offered video and radar evidence that its says proves a Russian MiG-29 military jet was behind the shooting.
Russia has denied any involvement, and has criticized Tbilisi for authorizing a "provocative" military flight.
Former Estonian Prime Minister Mart Laar, who has served as an adviser to the Georgian government, tells RFE/RL's Georgian Service he sees Moscow's recent behavior as a sign the Kremlin misinterpreted the message coming out of Bucharest -- and that it feels free to meddle in Tbilisi's affairs with impunity.
"Even if Georgia got a very clear statement, and a very clear promise to become a member state of NATO, it was the MAP that Russia saw as the main battle. So when Georgia didn't get the MAP, there were fears that Russia -- as it very often does -- would understand the situation the wrong way," Laar said, "which means that it understood that Georgia was going to be abandoned and that they [in Moscow] were free to do whatever they like."
with reporting by RFE/RL's Georgian Service and additional agency reports
Sumo Diplomacy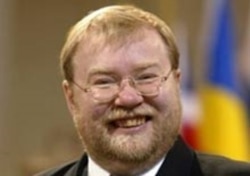 Former Estonian Prime Minister Mart Laar has more recently become known as a vocal supporter of Georgia's pro-Western aspirations. Laar served as a special adviser to Mikheil Saakashvili after the 2003 Rose Revolution, and helped the government move forward on a program of liberal reforms. Laar spoke to RFE/RL Georgian Service correspondent Nino Gelashvili on April 22, one day after Tbilisi accused Moscow of shooting down an unmanned Georgian plane over the breakaway region of Abkhazia. Laar compared the relationship between the two countries to sumo wrestling: "whoever loses their balance first, loses."
RFE/RL: Georgia failed to get a NATO Membership Action Plan at the Bucharest summit in early April. Would the "balance" between Tbilisi and Moscow improve if Georgia were to get a MAP?
Laar: Yes. Because that would be a clear sign that Russia can understand. The promise they were hoping to get from the West was that there would be no MAP at this time. That they got. But they've taken that promise to mean that they will now have a free hand in Georgia. And they won't.
RFE/RL: Why did countries like France and Germany oppose the MAP? Was Russia the main factor, or was it because Georgia wasn't ready?
Laar: No, it was because of Russia. It was just naive to hope to integrate Russia in a positive way into the discussion, and to give Dmitry Medvedev a "fresh" start as the new president of Russia. That's not how Russia understands things. Russia never admires weakness. The only thing it admires is strength.
RFE/RL: Is there anything the EU and the international community can do?
Laar: Russia is about to see its relationship with the West deteriorate very badly. Russians understand that the dependence is on both sides: Europeans to some extent are dependent on Russia, and in the same way, Russia is dependent on the EU. When you deal with Russia, you must know this country. We [Estonians] know it. We have lived under Russian occupation for more than 50 years. A lot of Europeans have not.
Editor's note: The Estonian Parliament on April 23 issued a statement expressing "deep concern" over Russia's decision to intensify ties with Abkhazia and South Ossetia. "Emphasizing the principle set out in the Bucharest Summit Declaration that third countries have no say in the decisions concerning the enlargement, the Riigikogu calls upon the Member States of NATO to issue the Membership Action Plan to Georgia in December 2008."