Central Asia: Andijonis Continue To Flee Uzbekistan, Three Years Later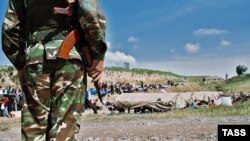 One of the border camps that sprung up virtually overnight in the weeks following the Andijon tragedy in May 2005 (ITAR-TASS) It started as a trickle in mid-May 2005, but became a deluge as Uzbek nationals fled the eastern city of Andijon after security forces opened fire on thousands of protesters on May 13.
The total number of Andijonis who crossed the border into Kyrgyzstan some 40 kilometers away in those initial days remains unclear. But the numbers appear only to have grown in the months and years since.
Sources in Kyrgyzstan insist to RFE/RL and others that the flow of exiles and their family members continues three years after the tragedy, which sparked a broader clampdown on dissent that continues to this day.
That runs counter to an emphasis by Uzbek state media on the scores of refugees who have returned to the region, many of them from the United States and as recently as this month. Some of the earlier returnees and family members have appeared briefly on Uzbek state television to say they were not victims of persecution.
Aziza Abdurasulova, of the Kyrgyz nongovernmental group Kylym Shamy (Torch of the Century), says the families of many escapees are now joining them in exile.
"The sheltering of families of Uzbek journalists, rights activists, and average citizens who have fled across the border to Kyrgyzstan continues," Abdurasulova tells RFE/RL's Kyrgyz Service. "There are scores of these people seeking places of safety."
Abdurasulova also says the resettlement of some of those refugees to third countries "is still going on," although such efforts have received scant coverage since the UN helped relocate 439 Uzbek nationals to European and North American destinations in 2005.
Human Rights Watch (HRW) has released a new report to coincide with the Andijon anniversary that accuses the Uzbek government of continuing its "vigorous" persecution of anyone it deems to have even the remotest connection to the events that transpired on May 12-13, 2005, including potential witnesses. The group says persecution well after the protest continues to generate new refugees, including 27 people whose testimonies were collected after they fled Uzbekistan in 2007 and 2008.
Fear Factor
Kyrgyz authorities, with the support of UN agencies, established refugee camps soon after the initial bloodshed. But many hundreds of arrivals from Andijon appear to have found at least temporary shelter with relatives or friends in the adjoining Kyrgyz provinces of Jalal-Abad and Osh, which were already home to tens of thousands of ethnic Uzbeks.
The incentive to remain in Kyrgyzstan is arguably strongest for those suspected by Tashkent of involvement in the violence. Uzbek authorities have maintained a tight lid on public discourse in the region, however, reportedly prompting more Andijon residents to join those who had already crossed the border.
Even those who have openly criticized the government's heavy hand in suppressing the disorder could fear retaliatory harassment or worse.
The plight of the initial refugees was well documented, but reports in the months after the Andijon violence suggested that far more people chose to blend in with the local population as best as they could.
Added Stress
Bakytkan Japarova, a rights activist from Kyrgyzstan's Jalal-Abad Province, explains some of the concerns that keep Uzbekistan's refugees from revealing their presence.
"[Uzbek refugees] are afraid to openly declare [their presence], because at the start the Kyrgyz authorities made mistakes, returning many refugees [to Uzbekistan]," Japarova says. "There are also accounts of the Uzbek secret services blackmailing people. Because of these things, not many of the refugees request asylum."
These exiles have chosen to remain illegal and anonymous in Kyrgyzstan, fearing the punishment that may await them if they return to their homeland.
Their presence further complicates an already stressed region. The Kyrgyz section of the Ferghana Valley and cities like Osh, Jalal-Abad, and Uzgen are already crowded and still serve as home to refugees from the Tajik civil war of the mid-1990s.
Frustrated Kyrgyz authorities complain of a lack of resources to adequately provide for Kyrgyz citizens, let alone new arrivals. The Kyrgyz government is also under pressure from the Uzbek side to track down and return these and other escapees -- some of whom the Uzbek authorities consider criminals.
Amirbek Usmanov of RFE/RL's Kyrgyz Service contributed to this report
Andijon And Its Aftermath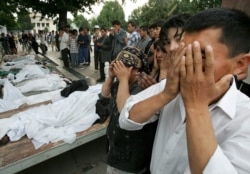 Three years after the violent crackdown on demonstrators in Andijon, the Uzbek government continues to reject Western demands for an investigation. At the same time, the international community appears to be easing its stance toward Tashkent.
Further reading: West Accused Of Memory Failure Over Andijon Bloodshed
Photo gallery: Recalling A Tragedy