Central Asia: Locust Invasion Worsens Region's Food Woes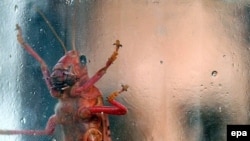 Invasive Moroccan locusts (epa) Swarms of Moroccan locusts have returned to Central Asia, flying north from Afghanistan into Kazakhstan and leaving barren fields in their wake.
Although the insects appear at the same time each year, the current invasion is particularly devastating, as the region is already threatened with food shortages and soaring food prices.

A shortage of crops caused by the harsh winter left less food for the locusts to devour, forcing the swarms farther north and west in search of new fields of grain and cotton, fruit orchards, and grazing areas for livestock.
In early April, the locusts appeared in large areas of Tajikistan, in what international aid agencies described as a significantly larger infestation than in previous years.
More than 220,000 hectares of Tajik farmland have already been infested; some 50,000 hectares in Kyrgyzstan; and some 200,000 hectares of land in southern Kazakhstan. (Uzbekistan has not reported its losses.) Locust problems are also reported in western Afghanistan's Herat Province and across the border in Iran.
Artykbay Argynbaev, an official from Kyrgyzstan's Agriculture and Water Resources Ministry, tells RFE/RL's Kyrgyz Service that the Moroccan locust present in Central Asia is particularly dangerous and difficult to eradicate. "They move in swarms and millions gather in one spot, [devouring everything] and then moving on," he says. "They reproduce very quickly and one locust can produce 500 more locusts. Their eggs can stay in the ground for five to 10 years waiting for ideal weather conditions [to hatch]."
In Tajikistan, authorities have mobilized the local population and sent the army to help fight the infestation. The use of pesticides is the preferred eradication method, but few can afford them in a country where more than half the population lives in poverty. "We have two planes for spraying pesticides on the crops, but it costs 15 somoni [$5] an hour, so the farmers cannot afford to use these planes," says Shavtkat Osimov from the Tajik Agriculture Ministry's branch in northern Soghd Province.
Argynbaev said all the southern regions of Kyrgyzstan are infested, as well as some places in the northeast. "Locusts have been appearing here for the last two years, but earlier they were in Naryn [Province], and now they have shown up in the Aksy and Nootken districts [of the southern Jalal-Abad Province], in the Arawan and Nookat districts of Osh Province, and also in Kadamzhai and Leylek districts of [the far southern] Batken Province," he says.
Devastating Damage
Kazakhstan -- the only grain-exporting state in Central Asia -- this year has placed a ban on grain exports to protect its own population against the growing international food crisis. Kazakhstan has more money to combat the locusts, but their numbers seem to have surprised officials.
"We are working on battling future problems with locusts but no matter how much pesticide you spray you can't kill all of them," Serik Alzahov, the deputy director of the regional Agriculture Department in South Kazakhstan Oblast, tells RFE/RL's Kazakh Service. "If there are five of them per square meter that's normal, but if there are 50 or more per square meter, it's the end of the crops. Locusts did not just show up here this year, they're here every year, but this year there is drought in addition."
The voracious insects are not only eating crops intended for people, but also feed for animals. In response, Kazakh Prime Minister Karim Masimov has ordered authorities in South Kazakhstan to purchase livestock in districts beset by the plague of locusts.

This arrangement has not stopped rumors that the swarms of locust are eating everything and that the livestock will therefore starve.
"There is a problem and the herds are being slaughtered and sold. The problem is not only the locusts," Alzahov says. "The drought has also left no grass for the herds -- there hasn't been the usual rain and the ground is very dry. People say the locusts ate the grass. Nevertheless, in the districts steps are being taken in coordination with the government. But if the weather stays bad [the government] will be forced to buy the animals. Some 250 million tenges [about $2 million] has been set aside for this purpose."
In the meantime, individuals are approaching the herders and offering half the usual price for their animals. Following the harsh winter, the livestock are still underweight, and would normally be sold only after they fatten up during the summer months. But some nervous herders -- who cannot walk hundreds of kilometers to the bazaars of big cities or afford transportation for their animals -- are selling off their livestock or slaughtering them now for sale.

International aid agencies, including UN bodies, are trying to help Central Asia cope with the locust problem, but it is already too late for many areas. As bad as the situation is now, it will likely be worse next winter, when the almost certain meager harvest will be compounded by an unavoidable meat shortage.
Erzhan Karabek of RFE/RL's Kazakh Service, Amirbek Usmanov of RFE/RL's Kyrgyz Service, and Salimjon Aioubov of RFE/RL's Tajik Service contributed to this report