Iran Designs Special Cars For Women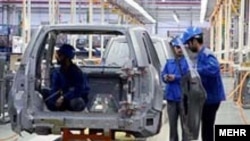 More gender separation in Iran, but this time it's not parks, or the catwalk, but cars. According to a story in "The Guardian" Iran's "biggest motor manufacturer is to take the country's gender sensitivity to new levels by producing a car specially for women." Such a car would:
"be fitted with features common on the international market but seen as female-specific in Iran's male-dominated culture. These include an automatic gearbox, electronic parking aids, a navigation system and a jack designed to make it easier to change a wheel, suggesting that women drivers lack the mechanical competence of their male counterparts. Alarms may also be installed to warn of flat tyres. The vehicle will be painted in soft "feminine" colours and include interior designs tailored to women's tastes. There will also be audiovisual entertainment systems for child passengers."
-- Luke Allnutt
About This Blog
Written by RFE/RL editors and correspondents, Transmission serves up news, comment, and the odd silly dictator story. While our primary concern is with foreign policy, Transmission is also a place for the ideas -- some serious, some irreverent -- that bubble up from our bureaus. The name recognizes RFE/RL's role as a surrogate broadcaster to places without free media. You can write us at transmission+rferl.org