If you look into the eerie darkness that stretches out to the frames in many of Rembrandt's paintings, you can sometimes discern shadows and mysterious figures lurking in the background.
Take a closer look and you start recognizing some of them. The search for clarity in the midst of deliberate obscurity suddenly brings out the master's intent, leaving you perplexed as to how deceptive your initial impressions of a piece of art can be.
Rembrandt's obsession with the subtleties and emotional power of darkness sets him apart as one of a kind in the realm of visual arts, but also serves as a reminder to us, humble laymen, that the obscure and the partially seen can be illuminating, at times even uplifting, rather than merely distracting and irritating.
Those who observe the intricate chiaroscuro of Russian politics could take their cue from Rembrandt's devotees. Just as in perusing his canvases you should never overlook the patches that look as though they were infused in dark-brown gravy, the color so beloved of Dutch painters, it makes sense every now and then to shine candlelight into the dark corners of the Russian state to glean insights into its internal politics. And what could be darker than Russia's North Caucasus region?
Playing Favorites
Earlier this year, Russian President Dmitry Medvedev paid an unannounced visit to the Republic of Ingushetia, which has recently seen a dramatic increase in antigovernment insurgence. Three months earlier, the Russian leadership had replaced the inefficient and unpopular leader of the republic, career Federal Security Service (FSB) officer Murat Zyazikov, with an obscure army colonel, Yunus-Bek Yevkurov.
The visit was fairly low-key, with Medvedev dancing all the right steps, albeit in a rather unemotional and sterile style. The 90-minute meeting with Ingushetia's leadership culminated in a promise of about $1 billion in federal aid, which arguably secured Medvedev the loyalty of local officials not exactly renowned for their infallibility.
When all was said and done, and the Russian president's helicopter took off, one question remained unanswered, however. If Medvedev went to all that trouble to travel to the country's most dangerous and unstable region, why did he not summon the leaders of the republics next door?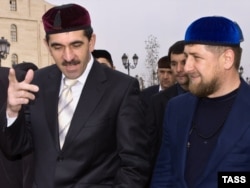 Ingushetia's Yunus-Bek Yevkurov (left) and Chechnya's Ramzan Kadyrov
It is hard to maintain that the presidents of Chechnya, Daghestan, Kabardino-Balkaria, and North Ossetia, all of whom are former President Vladimir Putin's appointees, were snubbed deliberately. But meeting only Yevkurov, who is regarded by some, perhaps not entirely correctly, as a Medvedev protege, when other regional leaders were within driving distance, can reasonably be interpreted that way.
The plot thickens even further when you consider that since his appointment last fall, Yevkurov has been granted only one audience with Prime Minister Putin, and a rather brief one at that. This is strange, given the fact that Ingushetia is plagued by the highest unemployment figures in Russia and the heaviest dependency on federal subsidies for its budget. If the official statistics are reliable, its economic situation is even more dire than neighboring Chechnya's after 15 years of conflict.

Battles By Proxy
Sometimes rivalries between various Russian agencies are pursued through proxies in the region in a somewhat less subtle way. Chechen Republic head Ramzan Kadyrov and the methods he chooses in dealing with his opponents is a case in point.
When Akhmed-hajji Kadyrov, former mufti of separatist Chechnya and Ramzan's father, was put at the helm of Chechnya in 2000 by Putin, then Russia's president, it became clear that the Kadyrovs had been invested with more power than other regional leaders could ever dream of.
It was a gamble on Putin's part. But it was one that Putin, an ex-spy, presumably not averse to risk, was prepared to take. Putin would later declare his belief that unspecified "dark forces" were behind the conflict in Chechnya, which may partially explain why he decided on such a radical strategy in dealing with it.
The Kadyrov family immediately set about building a power base by creating their own private army, commonly referred to as Kadyrovtsy; by accumulating the resources and funds needed to cement their leadership and solve specific issues at both local and national level; and by seeking to subvert or destroy all potential threats to their authority.
The Russian Army's top brass in Chechnya were apparently so concerned that so much power had been transferred to one family that they created alternative armed groups, which consisted mainly of ethnic Chechens but were subordinate to the Russian Defense Ministry's Main Intelligence Directorate (GRU).
The best known among them were the battalions Vostok and Zapad -- now virtually defunct -- under the command of Sulim Yamadayev and Said-Magomed Kakiyev. Those units not only battled the insurgency, but also offered themselves as a potential counterweight to the Kadyrov clan.

Politics By Other Means
When Ramzan Kadyrov became the de facto head of Chechnya after his father was killed in a bomb explosion in 2004, his enemies began to turn up dead, first in Chechnya, then in Moscow and beyond. By the end of 2007, Kakiyev had been forced to resign his command of the Zapad battalion and take up the nominal post of Chechnya's deputy military commissar for military and patriotic education. He has been keeping a low profile ever since.
Yamadayev, however, proved to be less pliable than is acceptable in Chechnya today. He kept publicly denouncing Kadyrov, but when in September last year his older brother Ruslan, a former Russian Duma deputy and another Kadyrov rival, was assassinated in the center of Moscow, it probably dawned on him that his fate was sealed.
Yamadayev fled Russia in December, reportedly with the help of his GRU contacts, and was hiding in the United Arab Emirates until a small death squad dispatched him in a parking lot outside his Dubai apartment.
Kadyrov of course maintains he is innocent of these crimes. But does he really need to bother? At least for now, his position as head of one of Russia's constituent regions seems secure. After all, there is always Putin on hand to write off as party to a hellish anti-Russian conspiracy anyone who refuses to be taken in by the Kremlin's Chechen agitprop.
Politics is not only about power, influence, and decision-making; it is also about symbols, passions, and perceptions. What is implied is as important as what is said. It is the interplay of light and dark, just as in Rembrandt's masterpieces.
Aslan Doukaev is director of RFE/RL's North Caucasus Service. The views expressed in this commentary are his own, and do not necessarily reflect those of RFE/RL