A Shrine Is No Place For Diplomacy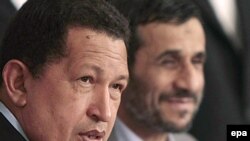 Blogger "
My Lonely Home
" is angry that Venezuelan President Hugo Chavez was allowed into the shrine of Imam Reza during his recent trip to Mashhad:
I covered [Iranian President] Mahmud Ahmadinejad and Hugo Chavez's trip to Mashhad. I felt happy to have been blessed with a chance, after numerous days of negligence, to pay my respects to Imam Reza: offer some prayers and dive into the pool of meaningful comforts. But, I confess, none of these things happened.

Ahmadinejad waited in the shrine from the afternoon while Chavez arrived there only an hour before Iftar [evening meal when Muslims break their fasts during the month of Ramadan]. According to the announced plans, the president of Venezuela would spend some time in the library and the museum during his visit to the shrine. But due to the accuracy of the plans of our government officials, none of these things actually happened.

The journalists were to wait for the Allah Akbar call, and were then taken to the guest house for Iftar, and after some offered their evening prayers they were taken to the prayer hall, only to be informed that the visit of this so-called Marxist Christian president, an anti-imperialist, has been postponed. Everyone may return to their homes. It was announced that Ahmadinejad was to hold a joint press conference with Chavez, but where? Instead of the White Governor's building, it was to be held at the shrine's ceremonial hall.

Everyone was shocked. The environment of the shrine just didn't go right with Hugo Chavez. His bodyguards and a bunch of Venezuelan diplomats with their red ties arrived and started roaming all around the shrine and taking pictures. I could swear I saw one of them walk freely with his waxed shoes on the holy area of the prayer hall inside the shrine and right on the carpets. He was soon forced to take them off by other journalists and put them in his bag.

I do not wish to conduct a constitutional discussion as I am completely an illiterate in that field; neither do I judge as to whether the entrance of a non-Muslim should be permitted in the shrine. The only question that keeps bothering me is, why the shrine? Why the holy environment of the shrine?

Mr. Ahmadinejad, what could have been deduced from your diplomacy skills, had you entertained your buddy, Hugo Chavez, at the Governor's House? The shrine does not belong to your government. It is not your property. Neither does it belong to any other government.

It belongs to all those believers who consider the dust on its carpets the catalyst to relieve them from their grave pains. It belongs to those whose blood circulates by a mere glimpse of the tomb. All those who, when passing "tappe salam," the "talab bridge" on a train, or the "ferdousi crossing," the "Tabrasi street" reaching the "five-way crossing," press their hands on their chests and bow their heads in respect.

I doubt Mr. Chavez could ever understand such an affection and love. It wouldn't matter if he has spoken about it in his joint press conference with you.

Mr. Ahmadinejad, the Shi'a believe that their imams are still alive, while you have brought a corrupt and malevolent person right into the holy shrine of God's mercy, into the realm of Imam's innocence, to a place you could see the flight of angels towards these lovers, should you look with your heart.

Trust me, even in that very Venezuela; the doors of most of their religious venues are open only to those of that belief. All the diplomats of the world are aware of this. Why then, did we allow these politicians to pollute the innocent atmosphere of the holy shrine? Those men who raise hands of friendship towards Iran while on the other hand they meet with Israeli officials. Those who once used to hug people like Saddam, as they hug Ahmadinejad now. Why them? Why?
About This Blog
Persian Letters is a blog that offers a window into Iranian politics and society. Written primarily by Golnaz Esfandiari, Persian Letters brings you under-reported stories, insight and analysis, as well as guest Iranian bloggers -- from clerics, anarchists, feminists, Basij members, to bus drivers. Follow @GEsfandiari
​