As the Abkhaz people gather in their capital, Sukhumi, they are exhibiting popular support for an independence movement that took root decades ago when the region was an autonomous republic within the Georgian Soviet Socialist Republic.
The August 21 rally harkens back to a movement that blossomed in 1978 when the Abkhaz protested against Georgia's own nationalist ambitions and demanded that the autonomous territory be transferred to the Russian Soviet Federative Socialist Republic.
While the request was rejected, the seeds of future conflict had been sown.
With the decline of the Soviet Union, those seeds began to sprout with tensions rising between Georgians and the Abkhaz, who demanded status as a separate Soviet republic.
Violence broke out in 1989 in Sukhumi, resulting in deaths and hundreds of injuries and requiring Soviet intervention to restore order.
In 1992, the situation took a turn for the worse after the authorities in Tbilisi announced that Georgia was abolishing its Soviet Constitution and restoring the Democratic Republic of Georgia.
The Abkhaz responded by proclaiming their independence in July 1992. Within weeks, the Georgian National Guard launched an incursion into Abkhazia and its capital and open fighting broke out.
The Georgian-Abkhaz War, which featured human rights violations and atrocities on both sides, lasted 13 months and resulted in the expulsion of an estimated 250,000 ethnic Georgians from Abkhazia.
In May 1994, an agreement on a cease-fire and separation of forces was signed in Moscow.
That document paved the way for a UN Security Council resolution adopted in July 1994 that called for the return of persons displaced by the conflict and reaffirmed the United Nations' commitment to the sovereignty and territorial integrity of Georgia.
Peacekeeping was carried out by a Russian force under the aegis of the Commonwealth of Independent States (CIS) that worked in cooperation with the UN Observer Mission in Georgia.
Later in 1994, Abkhazia's Supreme Soviet declared the region to be a sovereign state in a new Abkhaz Constitution.
After the events of 1994, the dispute was considered a "frozen conflict," although tensions remained high and occasionally returned to violence, notably in May 1998 and October 2001.
A referendum was held in 1999 in which the citizens of Abkhazia endorsed the 1994 Abkhaz Constitution and affirmed their desire for independence.
On August 25, Russia's upper house of parliament, the Federation Council, will hold an emergency session to consider the recognition of the independence of Abkhazia and another breakaway region, South Ossetia.
Ahead of the August 21 rally in Sukhumi, de facto Abkhaz President Sergei Bagapsh said, "If we do not implement in the next few days what we plan...then we will not be able to achieve it for another 10 years."
"Under no circumstances," he added, "are [we] going to live in one state with Georgia anymore."
Crisis In Georgia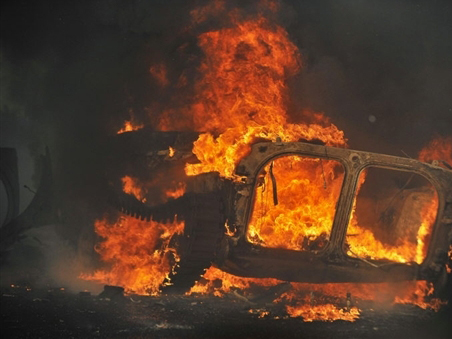 For RFE/RL's full coverage of the conflict that began in Georgia's breakway region of South Ossetia,
click here
.