MOSCOW -- What do a billionaire, a former deputy prime minister turned Kremlin critic, and the man wanted in Britain for the murder of an ex-KGB agent have in common?
The answer: they all hope to become the mayor of Sochi, an elite Black Sea resort town and the setting for the 2014 Winter Olympic Games.
This week, Aleksandr Lebedev, one of Russia's richest men and the owner of London's "Evening Standard" newspaper, added his name to the growing list of candidates hoping to run in the April 26 vote.
The 49-year-old former lawmaker, who owns a third of the national airline, Aeroflot, recently announced he was starting his own political party with former Soviet leader Mikhail Gorbachev. He is also co-owner of "Novaya gazeta," one of Russia's few remaining opposition newspapers.
Others who have joined the fray include Boris Nemtsov, who served as deputy prime minister under former President Boris Yeltsin and is now a vocal critic of the ruling regime. There is also Andrei Lugovoi, a Duma deputy with the Liberal Democratic Party of Russia who is wanted in Britain for the murder of former security officer Aleksandr Litvinenko.
The mayoralty of Sochi is a highly prized job; in the run-up to the 2014 Winter Olympics, the mayor's office will enjoy, among other privileges, partial control over a $12 billion budget pledged by the Russian government.
Growing Interest
Andrei Lugovoi has yet to officially throw his hat in the ring.
But observers say the race is also significant because mayoral elections are one of the few political posts left in Russia where candidates are elected by voters rather than appointed by the Kremlin.
Even so, attempts are likely to be made to ensure a pro-Kremlin candidate wins the vote, says Vladimir Pribylovsky, the president of the Panorama Information and Research Center think tank.
"Now there will be efforts to come up with an excuse not to register the dangerous candidates -- primarily Nemtsov and Lebedev. They might let Lugovoi in, although that, of course, would be a bit of a scandal for the election," Pribylovsky says.
"In general, it would of course be a very interesting election if there were a full slate of candidates."
Those three flamboyant hopefuls are joining a list of local candidates, including Communist Party candidate Yury Dzagania. Sochi's acting mayor, Anatoly Pakhomov, is also likely to run, with backing from the ruling Unified Russia party.
Nemtsov, who was born in Sochi, says he intends to bring order to the chaos he sees in the mayor's office. "There is complete lawlessness here, a bacchanalia. They have had four mayors in the last year," he says.
"And so people have appealed to me to bring order here precisely because they are tired of all this chaos -- of corruption, of lawlessness, of arrogance, of cynicism, and so on," Nemtsov adds.
Olympic Worries
Lugovoi, who has yet to confirm that he'll run, has said he would concentrate his efforts on getting Sochi ready for the Winter Games and notes that "Sochi is Russia's third capital, and one of the few places in Russia where you can vacation by the sea. Add to this the Winter Olympics, which two years ago seemed far off, but now it's already 2009 and the games are just five years away."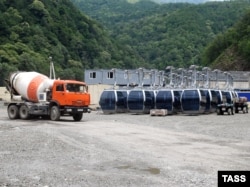 Preparations for the 2014 Winter Olympics have slowed.
He adds that his Liberal Democratic Party "cannot afford to ignore this important election."
Lugovoi's pledge to prepare for the games may find a receptive audience in Moscow. Sochi's selection as the 2014 Olympic host was considered a coup by then-President Vladimir Putin. But development of the Olympic site has been halting, and there are fears the looming economic crisis will slow the process even further.
Lugovoi also suggested that, if elected, he would ensure the mayoral office would answer directly to Moscow, rather than the Krasnodar regional government.
Residents of Sochi are bemused by the list of colorful outsiders hoping to become their mayor, says Gennady Shyakhov, RFE/RL's Sochi correspondent. He says locals believe the election will be interesting, and with Nemtsov's participation, "tongues are really wagging."
All the same, he says, he doesn't expect the turnout to be very high.
"Somehow people here are less politicized, they're less interested in politics, more interested in their own business. It's not exactly apathy -- it's just that we have a different character," Shyakhov says.
"If in Siberia people are better at taking part in elections, we are a bit more relaxed. We have more of the southern mentality. You have to bear that in mind."
RFE/RL's Russian Service contributed to this report