Another Senior Turkish Diplomat Visits Abkhazia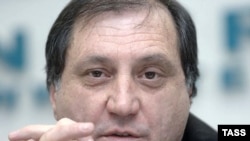 Nurdan Bayraktar Golder, head of the South Caucasus department of the Turkish Foreign Ministry, held talks in Sukhumi on April 19 with Sergei Shamba and Maksim Gvinjia, de facto prime minister and foreign minister, respectively, of the unrecognized republic of Abkhazia.
While Golder affirmed Ankara's willingness to expand ties with the breakaway Georgian region, the two Abkhaz officials responded coolly, apparently suspecting that she was acting as a stalking horse for the Georgian government.
Apsny Press
quoted
Golder as telling Shamba that the aim of her visit was to demonstrate how important Abkhazia is for Turkey's foreign policy. She said that while Turkey does not recognize Abkhazia as an independent state, it is determined to expand ties with the region. She said Turkey's Abkhaz diaspora (estimated at some 500,000 people) could serve as a bridge in that respect. She also affirmed Turkey's readiness to act as mediator between Sukhumi and Tbilisi.
Turkey's ambassador to Tbilisi, Murat Burhan, who accompanied Golder, recalled that since the visit to Sukhumi last September by Turkish Deputy Foreign Minister Unal Cevikoz, two working groups have been set up that have made "some progress" toward creating ways to promote bilateral cooperation in business and trade. He said Ankara "would like to discuss establishing direct trade relations with Abkhazia."
Shamba responded less than diplomatically, saying he had no interest in talking to Burhan as he was not accredited to Sukhumi. He also rejected the offer of mediation, saying Abkhazia would prefer direct talks with Georgia.
At the same time, Shamba proposed that Turkey follow the example of the European Union in pursuing cooperation with Abkhazia while withholding formal diplomatic recognition.
Golder's talks with Gvinjia focused on sea communications between Turkey and Abkhazia. Georgia has repeatedly sought to detain Turkish vessels that enter the Abkhaz sector of Georgia's territorial waters without obtaining prior permission from the Georgian authorities. Georgia has recently lodged a
formal request
with the International Maritime Organization to ask its members not to enter Abkhaz ports without Georgian permission.
Gvinjia told journalists that most of the Turkish proposals were based on the "Strategy on the Occupied Territories" that Georgia
unveiled in late January
, and for that reason he had no comment on them.
About This Blog
This blog presents analyst Liz Fuller's personal take on events in the region, following on from her work in the "RFE/RL Caucasus Report." It also aims, to borrow a metaphor from Tom de Waal, to act as a smoke detector, focusing attention on potential conflict situations and crises throughout the region. The views are the author's own and do not represent those of RFE/RL.