Armenia's Economic Options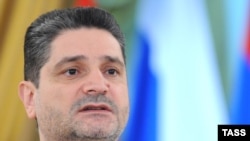 On March 3, the Armenian government finally ceased its yearlong policy of maintaining a stable exchange rate of the dram against the U.S. dollar and other major currencies. Immediately following that move, which the Central Bank of Armenia said in a written statement on March 3 would boost "external competitiveness" and help create new jobs, the dram plummeted in value, falling from 305.7 to 372.5 to the dollar.
Panicked residents of Yerevan raided stores to stock up on basic goods, thereby triggering a rise of up to 20 percent for staples such as sugar, butter, and cooking oil, and also of gasoline. The International Monetary Fund (IMF) responded the same day by announcing $540 million in emergency stand-by loans to minimize the continuing impact of the global economic crisis.
The dram stabilized within 48 hours at 363:$1, and both the IMF and the World Bank praised the Armenian government's decision, saying economic instability is now unlikely. But some domestic experts have argued that the government should have moved earlier, and more gradually, and that it still has no alternative to revising downward budget predictions and spending for 2009.
Addressing a cabinet session on March 5, Prime Minister and former Central Bank Chairman Tigran Sarkisian said any talk of a budget sequester is premature, Noyan Tapan reported. But former Yerevan Mayor Vahan Khachatrian predicted on March 6 the government will be forced to slash the budget soon, given that it is based on a predicted growth rate of 6 to 8 percent and an exchange rate of 302 drams to the dollar.
On March 5, the opposition daily "Haykakan zhamanak" reported without citing its sources that Sarkisian has already called for cutting planned budget expenditures by 10 percent.
In a March 6 statement, the IMF said that the Armenian authorities "intend to cut back on nonpriority spending while providing an increase in social spending of 0.3 percent of GDP...to protect the poor."
The 2009 budget originally envisaged a 15 percent rise in government expenditures to reach a record high of 945.5 billion drams ($2.6 billion), which could have been done only by increasing taxes and other revenues by 21 percent. In January 2009, however, tax revenues fell by 10.6 percent compared with 2008, reflecting a 0.7 percent decline in GDP.
Former Foreign Minister Vartan Oskanian similarly argued during a March 6 interview with Armenian Public Television that the government should publicly admit that the prediction of 9 percent GDP growth in 2009 was unrealistic. He said that target cannot be met even by channeling "money brought in from outside" (presumably meaning the IMF loan and the earlier controversial $500 million Russian loan) into the budget, and that the government should publicly pledge that it will not attempt to compensate for the anticipated shortfall in budget revenues by increasing the tax burden on small and medium-sized businesses, as many people fear.
In an
analysis
posted one week earlier, on February 26, on the website of the Civilitas Foundation which he heads, Oskanian had argued for a controlled devaluation of the dram, and for tax reforms that would alleviate the burden on "the little guy." He also pointed out that "in an economy where inflationary pressures are low, when credit is tight, when there is a clear economic slowdown, enlarging the budget deficit" -- currently below the internationally advocated 3 percent of GDP -- "is not only acceptable but necessary."
That additional emission, Oskanian continued, "can fund public works, thus creating jobs, improving infrastructure, and stimulating the economy."
Oskanian went on to highlight the political shortcomings that have compounded chronic economic problems, and that now urgently need to be addressed:
"The economy rests firmly on politics and law, on predictability and consistency, on transparency and equality. The political situation that exists around us today does not provide space for our economic dreams. It is not just the polarization, it is not just the cynicism, it is not just the lack of trust. It is also the insufficient respect for property rights, it is the sense of impunity on the part of those on whom we depend to reinforce the rule of law, it is the inarguable monopolies at the basis of so much of our trade. The government's responsibility is to secure our economy and our security. Both require a healthy domestic situation. The government may not be solely responsible for today's mess, but it has the sole capacity to bring the country out of this mess... The domestic political crisis may have come about as a result of bad judgments on the part of all political actors. But the solution must be sought from within."


Meanwhile, the government is seeking ways to counter the increase in unemployment caused by the global financial crisis.
Labor and Social Issues Minister Arsen Ambartsumian said on March 6 the budget for 2009 earmarks 700 million drams for social programs that will provide employment for 5,000 people across the country. That figure is dwarfed, however, by the volume of the registered unemployed, which exceeds 74,000.
The mining sector has been particularly hard hit in recent months. The Canadian-owned Deno Gold Mine in Kapan (in southeastern Armenia) has
laid off 300 workers
and a further 700 may lose their jobs, while the GeoProMining copper and molybdenum plant near the Armenian-Iranian border
plans to fire
at least 1,000 employees.

--
Liz Fuller and Emil Danielyan
About This Blog
This blog presents analyst Liz Fuller's personal take on events in the region, following on from her work in the "RFE/RL Caucasus Report." It also aims, to borrow a metaphor from Tom de Waal, to act as a smoke detector, focusing attention on potential conflict situations and crises throughout the region. The views are the author's own and do not represent those of RFE/RL.