WATCH: Baku's public beaches are often dirty and difficult to access.By Kristin Deasy
It's hot, it's August, and Afqan Seyfullayev is ready to hit the beach.
With temperatures reaching 45 Celsius in the Azerbaijani capital, Seyfullayev can't wait to tear off his T-shirt and dive into the cold, clear Caspian Sea.
The 40-year-old shop worker has traveled all the way to Baku from the southeastern Azerbaijani town of Salyan in order to spend his summer vacation relaxing at the glittering Caspian coastline.
His plans for a low-budget vacation have hit a snag, however. He didn't take into account a slew of new beach entry fees.
This year, vacationers are having to pay fees ranging from $4 to $12 per day -- plus parking and other costs -- to gain access to the city's best beaches, which are being rented by private businesses.
Seyfullayev, like many others, can't afford such fees (Azerbaijanis earn an average $371 per month) and complains that the few free public beaches are not properly maintained by city authorities.
"We, the poor, cannot relax at the Caspian," he laments. "There are no conditions for resting here. There is untidiness everywhere. We have no money to go to paid beaches, to rest in clean places."
Untidy And Unsafe
Baku's public beaches are not just dirty, they are unsafe. Officials say 15 people have drowned at public beaches since March. Most of the deaths occurred in areas in which swimming is prohibited. Locals complain that the prohibited areas are poorly marked and that public beaches are not staffed with lifeguards.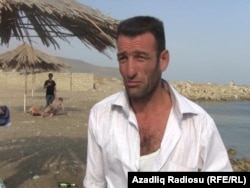 Afqan Seyfullayev: "We, the poor, cannot rest at the Caspian."
Metin Firuzi says he prefers private beaches, like the one called Aqua Park, because they are safe and many are staffed with security guards.
"We paid 10 manats ($12) per person to enter, and they provide everything," Firuzi says. "At least here your things won't be stolen."
Azerbaijani law bans private businesses from owning property within 20 meters of the sea, but a number of private businesses appear to have found a loophole by renting the land instead.
Azerbaijan has long struggled with corruption amid a troubled political climate. Opposition activists, human rights workers, and journalists are regularly harassed. In Transparency International's latest Corruption Perceptions Index, which rates countries on a 1-10 scale (with 10 being the least politically corrupt), Azerbaijan received a score of 2.3.
Lawyer Elton Guliyev says Azerbaijanis could sue businesses that have built walls around beach property because the businesses are violating Azerbaijanis' right to access the sea. But he says the law is unclear on who is allowed to sell or lease seaside property.
Government officials, meanwhile, deny there is a problem at all.
"All beaches currently active in Baku are free, according to the order of Baku city executive authorities," says Aliabbas Bagirov, press secretary for Baku's Executive Office Trade and Service Department.
No Comment
Rovshan Agayev, the deputy chairman for the Center of Support for Economic Initiatives, a local NGO, believes the issue needs legal attention.
Representatives of businesses running the private beaches refuse to answer questions.
One of those businesses, Crocus International, is able to build a tourism complex right on the shore of the Caspian Sea because the lands were "given" to the company, according to local official Balahuseyn Babayev.
Crocus International is owned by Russian millionaire Aras Agalarov, seen as a representative of the Azerbaijani diaspora in Russia. His son married the daughter of Azerbaijani President Ilham Aliyev in 2006.
Locals say some of the privatized beach property is administered by local government officials, who erect high walls to protect the area from prying eyes.
Some vacationers, like Zarnigar Gahramanova, a young mother, had to pass a five-kilometer stretch of fence along the coastal highway in order to reach a free public beach. In the end, Gahramanova says the public beach is too unsanitary for her baby.
"We came here because we can only afford this place," she says. "But it is impossible to relax in unclean places."

Khadidja Ismayilova and Nushaba Fatullayeva of RFE/RL's Azerbaijani Service contributed to this report