On May 10, Ali Novruzov, an Azeri blogger, and Emil Elmanli, an opposition activist, found themselves on the streets of Baku, along with some 2,000 other young people, protesting the government's refusal to schedule an official day of mourning for the 13 victims of the
shooting rampage
on April 30 at the State Oil Academy.
Instead, authorities chose to proceed with a Flower Festival and birthday celebration for former President Heidar Aliyev, who died in 2004.
Novruzov was among a group of bloggers, students, and activists near the park where the main festivities were going on. Each of the protesters held two red carnations -- symbols of their mourning.
Novruzov says he is not an opposition activist and has always been critical of the country's traditional opposition. He said the rally on May 10 was the first time he'd been involved in such a protest, saying he'd normally express his thoughts on his
English-language blog
.
Elmanli, an experienced activist from the opposition Musavat party, was in different location with other protesters, shouting slogans such as "No to terror!" and "No to flower festival!"
Both Novruzov and Elmanli ended up being detained by police,
along with some 50 other protesters
.
Novruzov describes his experience of being detained on his blog. He also posted a video made by his fellow protesters that they say shows the ridiculousness of the authorities' decision to proceed with the Flower Festival:
Both Novruzov and Elmanli were detained for a few hours before being released. Novruzov spoke in a
video
after being released.
But that was not the end of the story.
First-time protesters like Novruzov say they were amazed by the fact that their families were subsequently visited by local police officials. On May 13, Novruzov's house was visited by a police officer and two other plainclothes officials who were carrrying a list of names of the May 10 protesters. They said they were checking passports.
On May 14, Novruzov received another indication that he was under surveillance.
"My father received a call from the Crime Investigations Department of our district police, saying they were opening a file on me," Novruzov says.
Other bloggers who participated in the May 10 protest, such as
Roman Orkodashvili
and
Nigar Fataliyeva
, have also written about being visited by police carrying similar lists.
Opposition activists received even harsher treatment.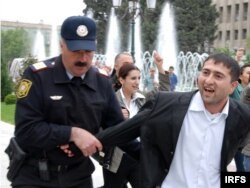 Protesters say their families have been visited by police since their detention.
Elmanlı, a member of the Musavat Party Youth Organization, says he was assaulted and beaten by unknown assailants at around midnight on May 15.
"I was going home when someone grabbed me by my throat, knocked me down, and began beating me," Emil says. "There were two of them. One of them said, 'How you dare arrange a protest action.' When I almost couldn't breathe, he told his companion, 'We taught him a lesson. Let's go.' "
Elmanli says he saw files about his family on a table while he was being interrogated by police and felt himself being shadowed in the following days.
Elmanli told RFE/RL that he has a 2-month-old son and that he worries not only about his safety but about the safety of his family. His wife and parents are stressed, he says, and his wife has threatened to leave him, putting him, he says, in a difficult position -- to choose between his family or his party.
An Interior Ministry official, Ehsan Zahidov, says the ministry can investigate the issue only after Elmanli files an official complaint.
The Musavat Party Youth Organization plans to protest in front of the Interior Ministry in Baku on May 23 and has sent a request for approval to the city authorities. The activists are demanding that authorities ensure their security and end political pressure on the country's opposition youth.
There has been no response to the request so far.
(by Khadija Ismayilova and Arifa Kazimova in Baku)