Well, it seems that we will be meeting here about three times a week. I hope that this blog won't seem too boring, or that if it does seem boring, that no one will force you to read it. ;)
This area has been declared a zone of complete freedom of speech, so I invite you to argue, curse, and disagree. The suggestion by RFE/RL's Moldovan Service to publish a Russian-language blog seems somewhat contradictory to me, but nonetheless correct. It is necessary to engage the opposition, Russian-speaking audience; and it is better if this is done by such outlets as RFE/RL's Moldovan Service, rather than "Puls" or "Nezavisimaya gazeta."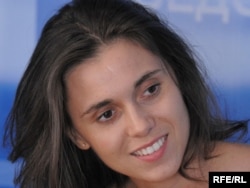 Natalia Morari is blogging for RFE/RL's Moldovan Service
Recently I had the good fortune to spend some time in California. And do you know what springs first into my mind when I think about that trip? A half-drunk homeless man who was sprawled out in the middle of a Hollywood pedestrian zone. Right before my eyes, two police officers walked up to him and said, "Sir, would you mind moving your legs a little? You're obstructing people." The drunk responded with a volley of cursing that covered all possible variations of swearing and ended with the declaration: "What? Am I worse than them? This is a free country. Let them walk around."
What do you think happened next? No, they didn't start beating him in the middle of the street. They didn't stuff him into a waiting car while kicking him and swearing at him. You won't believe it, but they simply excused themselves and walked away.
We'll never become a California. And not just because they have the ocean and we don't, or because they have oil and Silicon Valley and all we have are annual food shortages brought on by floods or drought or unseasonable frosts. No, those aren't the reasons we'll never become a California.
No, as long as beat cops there know how to speak politely to homeless drunks while our president (!) acts like a thug in a prison and uses prison-like slang to address even his main political opponents, we have no chance of becoming a California.
There, even cops on the street are used to respecting the rights of homeless people, while our officials are ready to spit on voters and cover them with you-know-what if they aren't the right voters.
It wasn't Chisinau Mayor and Liberal Party official Dorin Chirtoaca who was offended at a press conference last week when President Vladimir Voronin promised to stick a rat down his pants. It wasn't Our Moldova party leader Serafim Urechean who was offended when at the same event Voronin provided a colorful account of the pigeon coops where he has been hiding and losing weight. Nor was it the opposition leaders generally who were insulted when Voronin discussed in detail who was afraid to bend down for the soap in the banya and why.
First and foremost, he was insulting you and me -- everyone who on April 5 voted for one of the three opposition parties. And that's about one-third of the country, if you take the official results proclaimed by the Central Election Commission seriously. Excuse me for the bad language, but Voronin was -- first and foremost -- sticking a rat down our pants.
It is both funny and sad that we have become so ashamed of our for-now president. You don't have to love your president or share their views. You can be angry with them or unable to understand them, but it is rare to be ashamed of your president. But Voronin has managed this. He's a real president.
So, congratulations, comrades! Here's a rat for everyone's pants. And the president gets the biggest one of all.