Circassian Activist's Killing Rekindles Demands For Separate Republic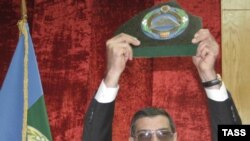 The killing on March 14 in Cherkessk of young Circassian activist Aslan Zhukov has highlighted once again latent tensions between the Karachai majority and the Cherkess minority in the Russian republic of Karachayevo-Cherkessia.
Most crucially, the reaction of the youth wing (of which Zhukov was a member) of the Circassian public organization Adyghe Khase underscores the fact that at least some Circassians see Moscow as a potential ally against perceived discrimination on the part of the Karachais.
The Turkophone Karachais are the republic's largest ethnic group, accounting for some 38 percent of the total 427,000 population, followed by the Russians (33.6 percent) and the Circassians (11.3 percent).
Zhukov, 36, was
shot dead
by a single gunman on March 14 at the car wash in Cherkessk that he owned. He was buried the following morning in his native village of Inzhich-Chukun.
Between 100-200 of Zhukov's friends and fellow activists then made their way to Cherkessk's central square with the aim of
venting their anger
, first at his murder, and second, that media reports made
no mention
of Zhukov's political engagement, but attributed his murder to his business activities.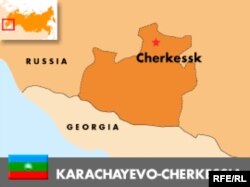 Police prevented the young Circassians from approaching the government building and informed them that Karachayevo-Cherkessia Republic (KChR) President Boris Ebzeyev, whom they wanted to talk to, was not available. Ebzeyev, a Karachai, went in person earlier on March 15 to
express his condolences
to Zhukov's family.
When Adyghe Khase Chairman Mukhammed Cherkesov came to the square to reason with the young Circassians, they demanded that he immediately convene an emergency congress of the Circassian people "before they shoot us all, one by one."
The protesters then adjourned to Adyghe Khase's offices, where according to Cherkesov they agreed to file a formal request with the municipal authorities to hold a protest meeting, but decided to
postpone
until May convening a full scale congress.
Cherkesov said that congress will again raise the demand, formulated at a
meeting
convened by the youth wing of Adyghe Khase in the village of Khabez on November 26, to split the KChR in order to create a separate Circassian autonomous oblast within the Russian Federation. Cherkesov said the president of that republic should be an ethnic Russian, and that government posts should be regularly rotated among the various ethnic groups.
That demand for a separate Circassian republic is less radical than the maximalist proposal put forward at a gathering in Cherkessk in November 2008 of Circassian organizations from across the North Caucasus. On that occasion, individual political figures advocated abolishing or redrawing administrative borders between the various North Caucasus republics in order to create a pan-Circassian republic that would encompass all the territory to which the Circassians lay claim. But while many Circassians may privately approve that idea, the meeting did not formally endorse it, and few have expressed public support for it.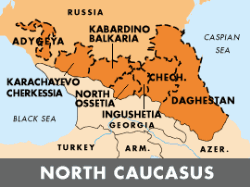 The website
elot.ru
has just launched an online poll to establish what territorial-administrative status Circassians consider most advantageous. To date, 77 percent (52) of the 67 respondents advocate a separate Circassian republic within the Russian Federation; 14 percent (10) favor the status quo; and 7 percent (five respondents) would settle for a Circassian autonomous oblast within Krasnodar Krai.
A statement posted on the website
adyga.org
in connection with Zhukov's murder sheds some light on the priorities and motives of the Circassian minority in the KChR -- factors that do not necessarily also apply to the Kabardian majority in the neighboring Kabardino-Balkaria Republic.
That statement implies that many Circassians' most pressing grievances are economic rather than political. It claims that Circassians in Karachayevo-Cherkessia on average struggle to survive on $2 per day; that Karachai businessmen employ mostly fellow Karachais; and that the two prominent Circassian financial clans are primarily occupied with battling each other, and do not shrink from using Circassian groups they subsidize as instruments in that fight.
Assessing the accuracy of those claims from a distance is more than problematic; but they show at least the danger of generalizing about the Circassians as a nation without factoring in the differing political, social and economic conditions in the various North Caucasus republics where they live.
About This Blog
This blog presents analyst Liz Fuller's personal take on events in the region, following on from her work in the "RFE/RL Caucasus Report." It also aims, to borrow a metaphor from Tom de Waal, to act as a smoke detector, focusing attention on potential conflict situations and crises throughout the region. The views are the author's own and do not represent those of RFE/RL.
Latest Posts