Coalition Partner Appeals To Armenian President To Ensure Fair Municipal Ballot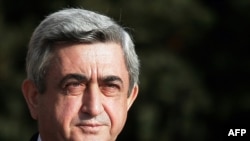 The Armenian Revolutionary Federation-Dashnaktsutiun (HHD) on April 1 formally appealed to President Serzh Sarkisian to pledge publicly that the ruling Republican Party (HHK) will not resort to fraud or pressure on voters to determine the outcome of the May 31 Yerevan
municipal elections
, in which former President Levon Ter-Petrossian is running for the post of city mayor.
Artsvik Minasian, a young member of the HHD parliament faction who heads the party's list of 51 candidates for the Yerevan city council, told journalists in Yerevan that "there is an attempt to use administrative levers.... I am aware of that. Only the president of the republic can guarantee that administrative resources will not be used." He said the HHD has already raised the issue with its three partners in the coalition government.
At the same time, Minasian stressed that he does not object to current Yerevan Mayor Gagik Beglarian heading the HHK list of candidates for the ballot, providing that he abides by the "rules of the game" and does not seek to use administrative levers or use municipal funds to buy votes, Noyan Tapan reported.
The opposition daily "Hraparak" published on March 27 allegations that some school principals in Yerevan were pressuring teaching staff to give assurances that they would vote in the election for Beglarian. Several school principals publicly denied exerting such pressure, and on April 1 HHK spokesman Eduard Sharmazanov denied any illegal intervention by the party. "I am calling on everyone not to sign such things because that is illegal and has nothing to do with the Republican Party," he said. "People doing that are provocateurs."
Meanwhile, on March 31, Zoya Tadevosian, a representative of the Zharangutiun (Heritage) party, the sole opposition party represented in parliament,
told RFE/RL
that one of the coalition parties has asked whether Zharangutiun would agree to sell the seats on district election commissions to which it is entitled.
She said that after Zharangutiun rejected those overtures, the party in question threatened to bribe individual Zharangutiun representatives. She did not identify the coalition party in question, but said she will do so if it continues such "criminal activities."
Abraham Bakhchagulian, who represents the HHK on the Central Election Commission, told RFE/RL that his party "has no reason to buy commission seats" because "you can't change election results by buying one or another commission member." A second commission member, Harutiun Shahbazian of the Prosperous Armenia Party (BHK), was less categorical, saying that he does not think Tadevosian's allegations were directed at the BHK.
-- Anush Martirosian and Liz Fuller
About This Blog
This blog presents analyst Liz Fuller's personal take on events in the region, following on from her work in the "RFE/RL Caucasus Report." It also aims, to borrow a metaphor from Tom de Waal, to act as a smoke detector, focusing attention on potential conflict situations and crises throughout the region. The views are the author's own and do not represent those of RFE/RL.