Daghestan's Intelligentsia Appeals To Medvedev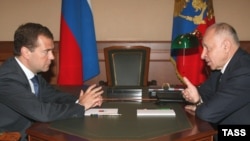 Seven prominent academicians and writers have
written
to Russian President Dmitry Medvedev asking him to renominate Daghestan's incumbent President Mukhu Aliyev for a second term. They point out that recent opinion polls show that over 50 percent of the population wants Aliyev, who is 69 and reputedly in poor health, to serve a second term.
The signatories argue that Medvedev's
unexplained delay
in deciding between the five prospective candidates proposed by the republican chapter of the pro-Kremlin Unified Russia party has given rise to an unprecedented barrage of mud-slinging that is destabilizing the political situation. (One
report
in mid-January alleged that Aliyev's relatives collected $30 million as a bribe to ensure he remains president.)
The signatories also criticize the inclusion in the list of five candidates of "front men for oligarchs and clans, persons with no influence or authority in the republic and with no experience in governing a state." This appears to be a reference to the candidates allegedly backed by the Russian billionaire of Daghestan origin, Suleiman Kerimov.
They pointed out that Daghestan's Muslim clergy and no fewer than 62 Daghestani parliament members have already written to Medvedev affirming their support for Aliyev. Medvedev himself is widely believed to be favoring Magomed Abdullayev who, like the Russian president, taught law in St. Petersburg University in the 1990s.
According to the weekly "
Chernovik
" on January 22, Medvedev must name a candidate no later than three weeks before Aliyev's term expires in early March.
About This Blog
This blog presents analyst Liz Fuller's personal take on events in the region, following on from her work in the "RFE/RL Caucasus Report." It also aims, to borrow a metaphor from Tom de Waal, to act as a smoke detector, focusing attention on potential conflict situations and crises throughout the region. The views are the author's own and do not represent those of RFE/RL.
Latest Posts