In recent months, Daghestan has overtaken Ingushetia as the most unstable and violence-prone North Caucasus republic, with militant attacks and counterattacks by security forces occurring almost on a daily basis.
The federal authorities have shown clear determination to counter violence with violence, deploying additional troops and armor to Daghestan
in recent days
in the run-up to the local elections scheduled for October 10.
But the insurgents continue to target both police and government officials, while neither the federal nor the republican leadership has undertaken any concrete action to address political, economic, social, and religious trends that fuel the violence.
Between late August and October 2, security forces have launched 16 separate counterterror operations across Daghestan (six in Makhachkala alone), in which they claim to have killed 60 Islamic militants. But local observers believe the death tolls are routinely overstated. And whatever the real losses, they do not seem to have paralyzed the insurgency, which is only one of several interconnected trends that are ineluctably corroding the fabric of society.
Change In Tactics
There has, nonetheless, been a shift in the tactics used against the Daghestan front of the Islamic insurgency since the killing on August 21 of Magomedali Vagabov, the suspected mastermind behind the Moscow subway suicide-bomb attacks in late March. In late August, security forces began
targeting vehicles
in which groups of fighters were travelling, killing nine militants in two separate attacks in the northwestern district of Khasavyurt that borders on Chechnya.
More significantly, counterterror operations are reportedly now being planned and carried out by federal-level agencies, sidelining the republican Interior Ministry and Federal Security Service (FSB), the competence and reliability of which are increasingly
open to question
. There have been two recent reports of the sons of Interior Ministry personnel "heading for the forest" to join the insurgents' ranks.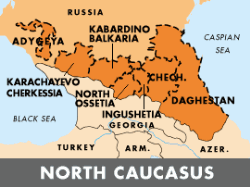 In addition, rather than launching full-scale assaults using artillery against premises in which suspected insurgents are reportedly holed up -- a favorite tactic of former Daghestan Interior Minister Lieutenant General Adilgirey Magomedtagirov, and one which on several occasions resulted in the death of totally innocent citizens -- the security agencies in
at least two recent operations
determined the identity of the fighters targeted and brought a parent of one of them to try to persuade him to surrender.
If, as FSB Director Aleksandr Bortnikov
has claimed
, the security forces retrieved Vagabov's "personal archive" from the house in Gimri where he was killed, that material may have proven useful in identifying and locating individual groups of fighters. It is also conceivable, as one long-time observer suggested to "Caucasus Report," that the FSB may finally have managed to infiltrate the Daghestan network, which would explain how Vagabov was tracked down and killed just weeks after North Caucasus insurgency commander Doku Umarov named him to head the Daghestan front.
Inflated Death Counts
The reported death toll of 60 fighters (including four women) killed in recent weeks is open to question. During a September 29 operation in Kaspiisk, just two or three actual fighters were killed, but the bodies of a number of other men were reportedly subsequently brought to the scene, according to eyewitnesses. The number of fighters killed was then given as nine. Conversely, following an counterterror operation in Makhachkala on October 2 targeting a house in which five militants were said to have taken refuge, just one body was recovered: that of a player from a local soccer team who,
according to the team's trainer
, could not have joined the insurgency as he had been training regularly without a break since 1998.
The real death toll since late August, and what proportion of the total manpower it represents, can only be guessed at. Shortly before his dismissal earlier this summer, Magomedtagirov's successor as interior minister, Colonel General Ali Magomedov,
said on July 22
that there were nine separate militant units in Daghestan numbering some 190 fighters in all. Video clips of meetings of regional field commanders, and of the day-to-day activities of militant groups, corroborate that estimate.
Whether because key contact personnel were among the fighters killed over the past two months, or due to a temporary ban on electronic communications in the wake of Vagabov's death, jamaatshariat.com, the official website of the Daghestan front, reported, but has
still not confirmed
, a report by the independent weekly "Chernovik" that veteran field commander Ibragim Gajidadayev was among eight fighters killed during a counterterror operation in Makhachkala on September 12.
DIY Suicide Bombers
Jamaatshariat.com
has, however, posted two statements over the past two weeks that reflect a shift in the tactics espoused by the republic's insurgents. In the first, the so-called Special Operative Group of the Daghestan Front -- an execution squad -- claims responsibility for the
killing on September 23
of a woman principal of a rural school who barred female students wearing the hijab from attending classes. The second was a
claim of responsibility
by the Guraba jamaat for the explosions that damaged the Irganay hydroelectric power station during the night of September 7-8. Both the republican and the federal authorities have attributed the fire at that facility on the night in question to an electrical short circuit.
Then on October 4, the website posted a brief commentary entitled "The Talibanization of the Caucasus." The author claims that the recent posting on jamaatshariat.com of a video clip in which a young fighter explains where to buy and how to assemble the explosives for a suicide bomb attack will have a "revolutionary" effect and has already led to an upsurge in the number of young Daghestanis using such devices, either in suicide attacks on police or in order to avoid being captured alive.
Although the author does not say as much, the public availability of such information obviates the need for alienated young people to establish contact with the insurgency and leave home to join their ranks. Instead, they can assemble suicide bombs at leisure and simply stroll into the nearest police station and detonate them.
On September 24, a suicide bomber
blew himself up
in Makhachkala close to a venue cordoned off during a counterterror operation. Twenty-six people, 13 police officers and 13 civilians, were injured.