Iran's revolutionaries, having taken Ayatollah Ruhollah Khomeini's promises of Islamic justice, prosperity, and democracy to heart, were looking forward to a bright future for themselves and their children.
"We want to make your material life comfortable but we will also make your spiritual life peaceful," Khomeini said in one of his first speeches upon returning to Iran from exile in 1979.
"You need spirituality; they took away our [spiritual values]. Don't only be content that we will build houses; we will provide water and electricity free of charge; we will make the use of public buses free of charge," he said. "But don't be content with that -- we will give you moral and spiritual greatness."
But 30 years later, the prosperity envisioned by Khomeini's followers has yet to materialize, leaving many Iranians disillusioned. The children of the revolution have entered adulthood to find a lack of jobs, limited freedom, and little hope for the future.
Reza, a 33-year-old truck driver from Sabzevar, has no memory of the revolution his father supported, in large part because of the inequality that existed during the nearly 38-year reign of Iran's last shah.
But he knows that his father, seeing how the gap between rich and poor has widened, now expresses regret, while Reza himself is left with frustration.
"In the past 30 years our country hasn't moved forward," Reza says. "The policies of [Iran's leaders] are harming Iranian people. They haven't done anything positive for the people -- they've only filled their own pockets."
Many Iranians share Reza's opinion that they have not benefited from their country's immense wealth of oil and natural gas.
Government Failures
The Islamic republic's constitution enshrines the elimination of poverty and deprivation, and the provision of basic needs such as housing, health care, and employment, as rights that all Iranian citizens can expect their government to uphold.
Yet economic data shows that Iranian leaders have failed in many of these areas. According to a recent report by Iran's Central Bank, 14 million Iranians, over a fifth of the population, live below the poverty line. Some 20 percent are unemployed, many are underemployed, and all struggle with a 25 percent inflation rate.
"We are now witnessing a very obvious inequality between the income of the richer class and the low-income families," Alavi says. "Because of the inflation and the mechanisms of income distribution, the inequality will increase in the coming years."
Fereydun Khavand, a Paris-based professor of international economic relations who is Radio Farda's economy expert, believes that the economy constitutes one of the revolution's biggest failures.
"When this establishment came to power, Iran's economy had some weaknesses -- including overdependence on oil; the economy wasn't very much on the path of liberalization -- but with this establishment the weaknesses were aggravated and Iran, more than before, sank into an oil and single-product economy," Khavand says.
A New Elite
"More importantly, Iran's economy became government-controlled, especially in the first decade following the creation of the Islamic republic," he adds.
Following the revolution, banking and other key industries were nationalized. Companies and factories were confiscated from fleeing monarchists and the wealthy, and transferred into new state-controlled foundations (bonyad) that are exempt from taxes and accounting transparency.
As a result, Iran's new clerical leaders and those with close ties to the establishment became the main beneficiaries.
Khavand says that while in the past three decades many countries launched economic reforms and successfully joined the global economy, Iran's economy has stagnated.
"I think that the main factor of Iran's [economic] failure is that, in a historical and very important era, it lagged behind and didn't manage to go through reforms that could modernize Iran's economy," Khavand says. "And what's even more important is that Iran's economic structure went backward."
Corruption, mismanagement, and factionalism have also plagued the country's economy.
Some economists inside Iran have warned that under hard-line President Mahmud Ahmadinejad, economic mismanagement has grown. They argue that his government's policies have harmed growth and raised inflation. And they have blasted Ahmadinejad over his "tension-creating" foreign policies.
Iran's international reputation has suffered from its refusal to halt uranium enrichment, despite growing international pressure. And sanctions and additional measures imposed by the UN and United States and others have affected Iran's economy by making trade difficult and scaring away foreign investors.
"You basically don't see Iranian decision makers reach consensus on any solution. This is one of the major problems facing Iran's economy," economist Alavi says. "The situation could improve only if [Iran] were to have effective management of natural and human resources and also a logical relationship with the outside world. Unfortunately, [Iran ] is lacking [both]."
Reza, the son of a revolutionary supporter, calls for a UN-held referendum on the future of the Islamic republic.
"Hasn't the time come to hold elections and see what people in Iran think [about the current regime]? I know that they all have a negative view of this establishment," he says. "People should express their views on this, and [Iran's leaders] should respect people's views -- even though they would definitely not attach any importance to them."
Perhaps in a sign that Reza's hopes for a change in the government's approach will not be realized, President Ahmadinejad on February 1 reminded Iranians that the revolution is still alive, and will live on until social justice is served.
Iran's Revolution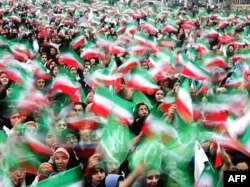 Iran's Revolution
As Iran celebrates the 30th anniversary of its Islamic Revolution, RFE/RL looks at the legacy of the revolution and its effect on Iran and the world. More
Images Of The Iranian Revolution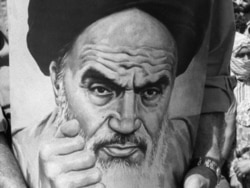 Images Of Revolution
An audio slide show of Reza Deghati's iconic photos of the Iranian Revolution and the hostage crisis that followed. Play