The Russian leadership, which is funding postconflict reconstruction in the unrecognized republic of South Ossetia,
has apparently warned
President Eduard Kokoity against continuing to try to force the resignation of the republic's government, which is headed by Vadim Brovtsev, a Russian businessman from Chelyabinsk.
A parliamentary vote of no-confidence in the cabinet scheduled for May 5 was called off just hours before it was due to take place, and just one day after Kokoity was summoned to Moscow for what the Russian daily "Kommersant" described as a "strained" talk with Russian Minister for Regional Development Viktor Basargin, who is said to be Brovtsev's patron and protector. The South Ossetian parliament voted instead on May 5 to
set up a special commission
that will assess how the cabinet spent budget funds last year and in the first quarter of 2010. The commission will present its findings in six months.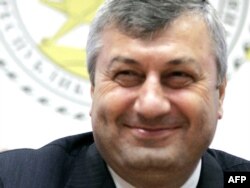 Eduard Kokoity
A media campaign to vilify Brovtsev
got under way a month ago
. Corruption cases were subsequently opened against two Russian officials Brovtsev brought with him to Tskhinvali, and the republic's parliament, at that juncture wholly loyal to Kokoity, began collecting the required number of signatures (13 of a total of 34 deputies) to
bring a formal vote of no confidence
against him.
Brovtsev fought back, bringing a libel suit in a Moscow court against South Ossetian parliamentarian Amiran Dyakonov who quoted him to Russian news agencies as implicitly criticizing the decision by Russian Prime Minister Vladimir Putin to establish a new mechanism for overseeing the transfer of federal funds to the South Ossetian government.
Then speaking at a press conference in Tskhinvali on April 30, Brovtsev countered Kokoity's criticism of his failure to submit the draft budget for 2010 to parliament by
proposing a republic-wide public discussion
of that draft. Brovtsev stressed that the Russian government approved the draft in December. He further argued that salaries are nonetheless paid on time and the funds allocated for social programs are being spent as planned. He claimed that it is to his government's credit that the overall situation in South Ossetia is "stable."
After the parliament decided on May 5 not to proceed with the vote of no-confidence, Kokoity made an impassioned defense of Brovtsev, affirming that "there is no political crisis." He advised Brovtsev to "draw the appropriate conclusions" and to "be more principled and firm." Kokoity said he will continue to work with Brovtsev but not with certain unspecified ministers who, Kokoity said, "try to sabotage presidential assignments and set up the premier."
The anti-Brovtsev faction is, however, in no mood to concede defeat, to judge by an
article published on May 10
in the newspaper "Respublika." The author, A. Kochiyev, dismissed Brovtsev's April 30 statement as "in the best Soviet tradition" and accused Brovtsev of seeking to portray any criticism of the cabinet's failings as "anti-Russian." In that context, Kochiyev affirmed that "no one here is against Russia, they are for South Ossetia," implying that the parliament will continue to pressure Kokoity to stand up to Moscow in the continuing standoff over Brovtsev.