"The Iran Sound From Way Out"
is a new music program from RFE/RL that focuses on the best of Iran's underground music scene.
Despite the restrictions imposed by the Islamic republic's ruling authorities, Iran has a vibrant underground artistic life.
In the last 10 years, many Iranian musicians have introduced Western musical devices, influences, and instruments into traditional Persian melodies and musical traditions, branding their own Persian sub-genre in familiar styles such as rap and blues.
Listen below as Radio Farda's chief music producer, Payam Razi, interviews the Iranian rock band Free Keys in Tehran and introduces Kiosk, a hugely popular Iranian band currently on an international tour.
The Iran Sound From Way Out: Episode 3
More about the bands you'll hear in Episode 3:
Free Keys
The Tehran-based band
Free Keys
gained attention as part of Bahman Ghobadi's 2009 film "No One Knows About Persian Cats" (watch the whole movie online
here
, legally) about the music scene in Tehran.
In the movie, two members of a fictional band try to leave Iran to go on tour, but run into problems with documents as part of the movie's larger plot.
In real life, back in 2008 Free Keys
were trying to go to Britain
to go on tour, but two band members were prevented from going because they had not done the two years of military service required in Iran.
The only band member who made it to Britain was the bassist, Arya, who eventually left the band. The other two members stayed in Tehran, where they picked up a few new members and are busy working on their new EP "Asthmatic."
Free Keys started in 2007 with Pooya on vocals, Arash on drums, and Arya playing bass. After Arya left, Amon joined on guitar and vocals, and Ali joined as the new bassist.
They are now working on their next album, "Dream Mechanics," which is set for release later this year.
The Free Keys songs heard this podcast are "Dreaming," "Freaky," and "Time's Spin Part 2."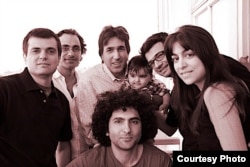 Kiosk
Kiosk
"The Iran Sound From Way Out" will interview the band
Kiosk
, which formed in a Tehran basement in 2003, in Berlin later this month. Submit a question for the band by leaving a comment below or e-mailing music(at)radiofarda.com -- Payam will take the two best questions directly to the band.
Kiosk released their fourth album, "Triple Distilled: Live At Yoshi's," on October 8. Watch their new video
here
.
Kiosk has long been popular among young Iranians. The band's guitarist and soloist, Arash Sobhani, moved to the United States in 2005 to release the band's first album, "Ordinary Man." They have since produced three other albums: "amor de la velocidad" (2007), "Global Zoo" (2008) and "Triple Distilled: Live At Yoshi's."
Kiosk songs featured on this podcast are: "Eshghe Soraat" ("Love for Speed," from "amor de la velocidad"), "To Kojaee?" ("Where Are You?," from "amor de la velocidad"), "Ordinary Man" (from "Ordinary Man"), "Roozmaregi" ("Boredom." from "Ordinary Man"), "Agha Negah Dar" ("Stop the Car," from "Global Zoo"), and "Green Grass" (from "Triple Distilled: Live At Yoshi's").