Jailed former Yukos head
Mikhail Khodorkovsky
has written a letter of support to Yevgenia Chirikova, the charismatic young leader of the Ecodefense movement hoping to protect Moscow's Khimki forest.
According to a copy seen by RFE/RL's Russian Service, Khodorkovsky wrote in an e-mail:
Dear Yevgenia -

I have been really concerned about you and your kindred spirits during the recent events. I'm glad that [Russian President Dmitry] Medvedev pointed our "vertical" in another direction. Of course, the final decision is a long way off and is not guaranteed, but the very initiation of a dialogue about other behavior, instead of "being hit over the head" is a good thing.

As a Muscovite, I wish you great success and am really proud of you. As someone who knows our reality, I worry, like before, about what may befall you. A good amount of monsters oppose you. As a man, I feel uncomfortable when I see a woman at the center of a fight. But at the same time, I respect your choice and acknowledge that in Russia it is the women who decide many of the unsolvable problems. And not only in Russia. [Margaret] Thatcher has a good saying about this: "If you want something said, ask a man. If you want something done, ask a woman."

Again, much luck to you -- and I hope we can meet in person in the future.

Respectfully,
Mikhail Khodorkovsky
Chirikova told RFE/RL in
an interview
(in Russian) that she was extremely thankful that Khodorkovsky found time to support her activities.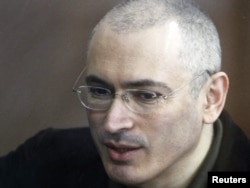 Mikhail Khodorkovsky in court in May
"I totally agree with Mikhail Khodorkovsky about the fact that 'we are far from a result and results are not guaranteed,'" she said. "Obviously, this person sees this [situation] from prison."
She added that it had indeed been "very hard for opponents" of the planned highway project, most of whom came from Prime Minister Vladimir Putin's own United Russia party, to reach agreement.
Chirikova went on to say that while she had only followed Khodorkovsky's trial through newspapers, she is prepared not only to fight for the environment but for political prisoners as well.
"We are fighting for our civil rights in the ecological realm. However, in doing that we are waging a fight against this lawless police force, who we continue to come up against, and this right we will defend," Chirikova told RFE/RL. "We keep on pulling up more and more problems -- like corruption, for example."
Chirikova said that her group, along with environmentalists from the World Wildlife Fund (WWF), Greenpeace, and other organizations have gathered with environmental experts to find the best possible variant for the Moscow-St. Petersburg highway.
But the Khimki defender said those problems -- Khimki, corruption, Khodorkovsky's imprisonment -- are connected. The central fight, she insisted, "is against injustice."
She said she sees no problem with people chanting both "In defense of Khimki forest" and "Free political prisoners" at the next meeting of her environmental group.
"We recognize that our police have turned into mobsters," Chirikova told RFE/RL. "And it's very possible that people who are deemed 'political prisoners' have become so not because of media speculation but because of that injustice itself."
-- Elena Vlasenko and Elena Polyakvskaya