Family Denies Circulating Photo Of Convalescing Chechen Commander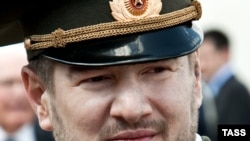 Relatives of Sulim Yamadayev, the former commander of the Russian Defense Ministry's renegade Vostok Battalion who was reportedly shot dead outside his Dubai residence on March 28, have denied publicizing photos of him in hospital.
On May 21, the Chechen website kavkazcenter.com, which is controlled by Movladi Udugov, the eminence grise behind self-styled Amir of the North Caucasus Doku Umarov, posted a photo, which it claimed to have received earlier that day, of a man who
closely resembles
Yamadayev. The man is lying propped up on pillows in a hospital bed.
Sulim's brother Isa Yamadayev has
acknowledged
the likeness between Sulim and the man in the photograph, but said he has never seen the photo before and does not know where and when it was taken.
A second, unidentified relative suggested that the photo may have been a montage. That relative also argued forcefully that if the family had wanted to circulate photographic evidence that Sulim is indeed alive, as Isa Yamadayev has repeatedly claimed he is, they would not have sent it to Udugov's "separatist" website.
About This Blog
This blog presents analyst Liz Fuller's personal take on events in the region, following on from her work in the "RFE/RL Caucasus Report." It also aims, to borrow a metaphor from Tom de Waal, to act as a smoke detector, focusing attention on potential conflict situations and crises throughout the region. The views are the author's own and do not represent those of RFE/RL.