* correction appended
The poor showing by opposition parties in the May 30 Georgian local elections, and the crushing defeat of opposition challenger Irakli Alasania in the Tbilisi mayoral ballot the same day, mark the third failure within three years of an all-out effort to change the balance of power in the country. A series of protest demonstrations in Tbilisi in the fall of 2007 was brutally dispersed by police. A further wave of peaceful protests and pickets launched in April 2009 lost momentum and petered out after a few months.
A realignment of the political spectrum is now under way as opposition parties take stock and look ahead, individually and collectively, and begin to plan their strategy for the parliamentary ballot due in 2012.
In the May 30 vote, President Mikheil Saakashvili's United National Movement (EEM) polled 65.57 percent of the vote nationwide, followed by the opposition Christian-Democratic Movement with 11.91 percent. In third place was Alasania's Alliance for Georgia with 9.19 percent, followed by the National Council, an alliance of six parties and groups headed by former Prime Minister Zurab Noghaideli, with 6.91 percent, and the "Industrialists" led by beer magnate Gogi Topadze with 4.25 percent.
None of the remaining parties surmounted the 4 percent hurdle to qualify for representation on local councils. Voter turnout was just 49 percent nationwide (46.64 percent in Tbilisi), compared with 55 percent nationwide in the May 2008 parliamentary ballot.
In the Tbilisi mayoral vote, incumbent Gigi Ugulava of the EEM won reelection with 55.2 percent of the vote. Alasania placed second with 19 percent, Giorgi Chanturia representing the Christian Democrats third with 10.7 percent, Zviad Dzidziguri (National Council) fourth with 8.3 percent, and Topadze fifth with 5.2 percent.
The first casualty of the May 30 elections was Alasania's Alliance for Georgia. On May 31, when it became clear that he had definitively lost the election, Alasania thanked those who voted for him, affirming that "we have been defined by voters as one of the key political forces."
He vowed to build on that support
in the run-up to the presidential ballot in 2013. The constitution bars incumbent President Mikheil Saakashvili from seeking a third presidential term.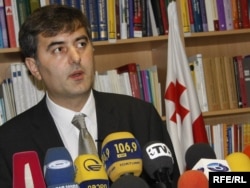 Sozar Subari
Then on June 1, one of Alasania's key allies, former human rights ombudsman Sozar Subari, announced he had decided to quit the Alliance one month earlier when he realized it was "on the wrong course, one that would not lead to an election victory," Caucasus Press reported. Eight days later, Subari
announced at a press conference
his plans to form a new public movement named Georgian Idea that will formulate a new national concept that he hopes will unite the country. "The local elections confirmed that without unity it is impossible to fight an authoritarian regime," he reasoned.
Levan Gachechiladze, Saakashvili's main challenger in the pre-term presidential election in January 2008, who sat next to Subari at the press conference,
affirmed his readiness
to align with Subari in formulating and promoting that new concept.
On June 15, Alasania announced the de facto dissolution of the Alliance for Georgia. He acknowledged that he launched his mayoral campaign five months too late, and that he wasted too much time trying to forge an alliance with other opposition parties that could have been put to better use meeting with voters, according to Caucasus Press on June 15. He said he now plans to spend more time meeting with people, and to use the Internet and social networking sites more actively to target younger voters.
Alasania
further explained
that both his own Our Georgia-Free Democrats and its partners within the Alliance will seek to strengthen their respective party organizations, but at the same time will coordinate their efforts to "change the existing electoral system to ensure the next elections are free and fair." Davit Gamkrelidze of the New Rightists and David Usupashvili of the Republican Party, both of which parties were members of the Alliance,
affirmed their readiness
for such cooperation.
Tensions have also emerged within the more radical National Council that unites the Conservative and People's parties and three smaller groups, plus former Prime Minister Zurab Noghaideli's movement For A Just Georgia. Noghaideli and People's party leader Koba Davitashvili have both been subjected to widespread media vilification for traveling to Moscow to meet with Russian leaders in a bid to seek ways to defuse the festering tensions between the two countries.
Zurab Nogaideli
On June 10, Noghaideli and former Defense Minister Irakli Okruashvili
issued a joint statement
in which they affirmed that the fragmentation of the opposition has given rise to disillusion and nihilism among the population at large. They argued that it is essential for opposition forces to consolidate, unite, and formulate a new plan to halt the breakup of the country and lead it out of crisis.
The two men met in Munich on June 16, together with Gachechiladze and former Ambassador to Russia Erosi Kitsmarishvili. The leaders of the Conservative and People's parties, Dzidziguri and Davitashvili, were not present. According to Kitsmarishvili, one of the topics discussed, at Gachechiladze's suggestion, was Subari's new Georgian Idea.
Noghaideli for his part
told journalists on his return to Tbilisi
on June 19 that the Munich talks focused on "what kind of country Georgia should be, how we can replace the Saakashvili regime," and how to set about building a broad opposition union that could put the country back on the path to unity and development.
It is not yet clear, however, whether Noghaideli and Okruashvili will hijack Subari's new concept as a rallying point. Subari told RFE/RL's Georgian Service that he hopes that it will serve to promote the far broader consensus among opposition parties that he sees as a fundamental precondition for success.
Other political figures, too, have stressed the need for opposition unity, including former parliament speaker Nino Burjanadze, whose Democratic Movement-United Georgia (DMES) declined to participate in the local elections on the grounds that they would be "a farce," the outcome of which would be rigged. Burjanadze
told heads of her party's regional branches in Tbilisi
on June 3 that the DMES should now work to build up its support outside Tbilisi and lobby energetically for pre-term presidential and parliamentary elections.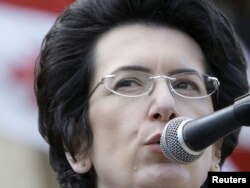 Nino Burjanadze
Burjanadze also said on June 3
she might align in a bloc
with Gachechiladze and Okruashvili. But her exclusion from the Munich consultations suggests the desire to join forces is not mutual.
The opposition National Forum, which like Burjanadze's DMES did not field candidates in the local elections, similarly advocates consolidation and pre-term elections. One of its leading members, Gubaz Sanikidze, was quoted as telling the independent TV channel Maestro on June 4 that Georgia is running out of time and "cannot wait" until the 2012 parliamentary ballot.
Forum leader Kakha Shartava for his part
echoed Alasania's argument
, saying that cooperation between the opposition and society at large is imperative in order to introduce into the election code amendments that will facilitate peaceful regime change.
Whatever new alliances may emerge in the coming weeks and months, the fundamental divide between the moderates, who seek to bring about legislative changes that would facilitate regime change in free and fair elections, and the more radical parties, some of which argue that doing so is impossible, is likely to persist.
Alasania, whom "The Economist" on June 4 quoted as declaring that, "We have shown that you can challenge the government only through elections. Anything else leads to chaos and anarchy," remains the most prominent representatives of the moderates.
At the opposite end of the spectrum is former Minister of State for Conflict Resolution Goga Khaindrava, whom Caucasus Press on June 19 quoted as telling Radio Palitra, "I see no way to bring about regime change in Georgia by means of elections...The only way out of this situation is a popular uprising."
Whether Okruashvili and Noghaideli (and possibly also Subari) can occupy the middle ground between the two and build up broad popular support for a political program based on Subari's Georgian Idea is impossible to predict at this juncture.
* Erosi Kitsmarishvili is the former ambassador to Russia, not the United States