TBILISI -- Irakli Alasania, Georgia's former UN ambassador and head of the Alliance for Georgia opposition umbrella group, has emerged as the leading moderate voice in the country's fractious antigovernment ranks.
Alasania, who has objected to roadblocks and other radical protest tactics by the opposition, is forming his own political party and calling for immediate dialogue with the government. RFE/RL's Tbilisi bureau chief Marina Vashakmadze sat down with Alasania to talk about his proposals for guiding Georgia out of its current political deadlock.
RFE/RL: What made you decide to form your own party?

Irakli Alasania:
We've always stressed that, despite the need for the opposition to have some kind of political unity, the political forces involved shouldn't lose their individual faces. It was our belief that, in parallel to the protest rallies, it was necessary to launch talks with the government, so that we could learn what it was that the government could agree to or concede at this stage in order to ultimately make free and fair elections possible.
This was the basis of the
six-point
[reform] proposal that we presented to the government. But unfortunately, we still haven't received a concrete response from them.
RFE/RL: You decided to take part in the recent opposition rallies calling on President Mikheil Saakashvili to resign, despite some reluctance. Since then, however, you've rejected the need for radical street protests. What did the recent wave of demonstrations teach you?

Alasania:
In my opinion, the rallies of the past month and a half were a success. The entire time, the public never really dissociated from the protests. This made the opposition -- as well as the government and the international community -- aware that unless we come up with real mechanisms for solving the political crisis, the protest spirit is not going to wane.
So these rallies really were a success for the opposition movement. This was demonstrated on May 26, [when more than 50,000 opposition supporters turned out at an Independence Day rally at Tbilisi's national football stadium]. And all of these aspects led me and my political team to understand that there's a need to change the tactics of street protests.
Change Of Tactics

RFE/RL: Why is it only now that you're thinking about establishing your own party?

Alasania:
We've been thinking about this for a long time. But our political organization has been very busy for the past month and a half, and we had no time left for practical steps in that direction. That's what we're starting to do now, from today onward.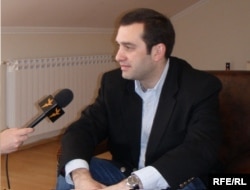 Irakli Alasania spoke to RFE/RL in Tbilisi.
I presume we'll present the new organization to the public sometime in the coming weeks. This organization will be our basis for pursuing talks with residents in the region, as well as possible participation in any future elections. The members of the alliance have been informed of this.
RFE/RL: So the Alliance for Georgia isn't going to fall apart?

Alasania:
No, this was agreed upon from the very outset. I think this will only strengthen the alliance.
RFE/RL: Part of your platform is that future protests should be aimed at getting concrete results. For example, rallies should be held outside institutions that are not fulfilling their obligations. What results would you hope to see?

Alasania:
The illumination of real problems. Criticism of the government becoming more focused. From the outset, the public must be made aware of the priorities of the various political forces; what kinds of reforms we'll pursue -- be they economic, agricultural, or legal.
At the same time, we're ready to offer the government solutions as early as today. If they're unable to resolve the issues, or don't listen to our proposals, then their powerlessness -- as well as the fact that they don't have the desire, ability, or resources to rectify the situation in any given sphere -- will become all the more clear.
Opening Real Dialogue

RFE/RL: Your platform also calls for immediately resuming talks with the government. Do you think other opposition forces are willing to back this idea?

Alasania:
I'm aware that many members of our society support the idea of using dialogue to find a way out of the political crisis. Unfortunately, ever since we put forward the six-point proposal, the government hasn't really offered us anything, and there's been no concrete plan for dialogue.
I think this is because they were watching to see how the street protests would develop, and how the May 26 rally would play out. This was a day that also changed the reality for them.
The situation was also altered by the statement by the Patriarch [Ilia II, who appealed to the opposition to drop its demand for Saakashvili's resignation, and called on the government to engage in real dialogue with the opposition.] So at present, given these transformed circumstances, I think both sides will be able to pursue a more topical dialogue.
RFE/RL: The first demand in your six-point proposal is for Saakashvili's resignation and snap presidential elections. Is a "topical" discussion of this issue possible?

Alasania:
The reason why the proposal consists of six points is that we're ready to openly discuss all six of them. In other words, the order in which the discussion should proceed [is flexible]. It's possible to talk first about the points where a consensus can be achieved.
If our perspectives differ on the first point, it doesn't prevent us from talking about transforming the electoral climate, media freedom, depoliticizing the law-enforcement structures and distancing them from the electoral and political processes, and so on.
There are issues that can be solved today, provided the government shows political will. Of course the government will try to avoid snap president elections, but we will try to push for virtually simultaneous presidential and political elections. The process of dialogue will make it clear which issues can be agreed upon, and which can't.
'Missed Opportunities'

RFE/RL: In December 2008, you told RFE/RL that you broke with Saakashvili's team because "opportunities had been missed" in dealing with the breakaway regions of Abkhazia and South Ossetia. Is conflict resolution part of your immediate political plans, or are you putting it aside for the moment to deal with the current internal crisis?

Alasania:
Now I have even more grounds to claim that major opportunities have been missed by this government and president with regard to conflict resolution. Our main goal today should be to implement as many international mechanisms as possible within the conflict zone so that any possible resumption of hostilities and wars is ruled out.
The policy of nonrecognition by the international community should be maintained -- for instance, with regard to last Sunday's [May 31] so-called elections in the Tskhinvali region. No matter how many attempts are made to legitimize the new reality that's emerged since the August war, the international community is not going to support this. And obviously any so-called elections held after an ethnic cleansing will lack legitimacy in the eyes of the international community.
But we must also remember that contact with inhabitants of both the Tskhinvali region and Abkhazia should not stop completely. Any talk of a political breakthrough will be superfluous until we gain strength and achieve political stability in Georgia -- but these contacts should be maintained.
Of course, what's most important is that the Russian Federation not be able to facilitate an escalation near the administrative borders. The situation is getting tense there, as well as inside Abkhazia -- certain forces in Russia are supporting the opposition so that the de facto leader, [Sergei] Bagapsh, is replaced.
In these circumstances, the only way for us to proceed is to prevent an escalation at all costs, and to maintain the private contacts [with the breakaway regions] that many people in Georgia have, so that the future political process can be facilitated.