Abbas Javid Kargar, a member of Iran's Basij force accused of having shot dead Neda Agha Soltan at a peaceful protest in Tehran on June 20 of last year, claims he wasn't armed on that day and that he played no role in her death.
Kargar makes the claim in a
new documentary
on Iranian state television. The film "investigates" Neda's killing without explaining the context or mentioning last year's protests. It appears to be another attempt by Iranian authorities to place the blame on elements outside Iran.
A graphic video showing Neda's last moments of life was quickly posted on YouTube and viewed by millions of people around the world, turning her into one of the main icons of Iran' Green Movement.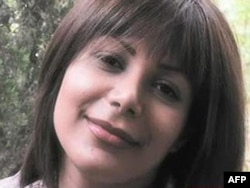 Neda Agha Soltan
Arash Hejazi, a doctor who attempted to save Neda's life, has said that some witnesses to Neda's death briefly detained Kargar on that day.
A video was later posted on YouTube
that appears to show Kargar being detained by protesters, who undress him and confiscate his Basij identity card.
Witnesses reportedly said they had heard Kargar shouting, "I didn't want to kill her."
In the documentary, Kargar denies ever saying that and says instead that he had shouted that he wasn't armed.
"If I had a gun, what happened to it?" he asks.
The new documentary, titled "Crossroads," suggests that the opposition Mujahedin Khalq Organization (MKO) was behind Neda's murder. Iranian authorities have described Neda's death as "suspicious" and called her murder a pre-planned scenario aimed at defaming Iran.
Kargar first appears in the new documentary wearing a green surgical mask (similar to those protesters in Tehran and other cities used to wear to protect their identity from security forces), but later removes it. He says he had to move out of his house after his ID card and personal information were posted on the Internet . He says he is forced to appear in public with a mask to protect himself.
Also interviewed in the documentary are Neda's music teacher, Hamid Panahi, who was with her at the time of her death; Setareh, a woman who says she was Neda's best friend; and the driver of the car who took Neda to the hospital. No one from Neda's family appears in the documentary.
In one scene, the reporter asks Setareh to call Neda's sister, Hoda, and tell her that Kargar is with them and that she can ask him whatever she wants. Hoda says she doesn't have any questions. She simply thanks Kargar in a sarcastic and angry tone for sending her sister to heaven. She also tells him he has to deal with "your God and your conscience."
Amnesty International calls
the Iranian government's response to Neda's death "a cynical face-saving exercise."
"Neda's unlawful killing is emblematic of not only the numerous human rights violations committed against Iranians over the past year -- which are still continuing today -- but also of the government's steadfast refusal to bring to justice those responsible for torturing and killing its critics."
The rights organization renews its call on the Iranian government to allow an independent inquiry into the deaths and abuses that took place during and after the demonstrations, including an investigation into Neda's killing.
Many Iranians and other people around the world have said they will honor her memory and the memory of other protesters who were killed in Iran's postelection crackdown by holding candlelight vigils. According to the opposition, more than 70 people were killed in Iran following the disputed reelection of President Mahmud Ahmadinejad.
In January, a
documentary was aired
on Iran's English-language Press TV claiming Neda was a foreign agent who staged her own death.
The hard-line and pro-Ahmadinejad Fars News Agency
said last week
that "political experts" believe a meeting that took place more than two months ago between Israeli President Shimon Peres and Neda's fiance, Caspian Makan, who was visiting Israel, is further evidence that foreign countries were involved in Neda's death.

In his blog
, Hejazi says the new documentary is a "step forward" that proves his version of Neda's death.
"On one side there is the account of Arash Hejazi and on the other side are the accounts of the Iranian government. The accounts of the Iranian government have been changed several times already. But the account of Arash Hejazi remains the same, and as each day goes by the truth about his comments is becoming more obvious."
For telling the truth about Neda's death, Hejazi says he has lost his publishing house and his security and that he cannot see his family in Iran anymore. After Neda's death, he left Iran to study in Britain.
Despite all the difficulties he's been facing, he says he has stood by his testimony.
-- Golnaz Esfandiari