With Georgia's hopes of quickly joining the NATO alliance deferred for the moment, Tbilisi is placing its hopes in the next best thing -- a bilateral security pact with the United States.
Details of the emerging accord are still unclear, but Georgian Deputy Foreign Minister Nino Kalandadze said the two sides are already discussing a "framework agreement" proposed by U.S. officials.
"Intensive negotiations are under way," Kalandadze told reporters in Tbilisi on December 17. "This treaty is being discussed mainly at the Defense Ministry, but also at the Foreign Ministry.... We will jointly analyze all its provisions in detail and in the end we will come to an agreement."
The negotiations come as the United States and Ukraine prepared to present a new strategic partnership statement on December 19.
Georgian officials say they hope a bilateral arrangement could not only enhance their security, but also jump-start their NATO bid. But analysts say it could also significantly raise the stakes in the South Caucasus by bringing the United States closer to a direct confrontation with Russia, which is solidifying its military and political presence in the pro-Moscow breakaway regions of Abkhazia and South Ossetia.
"It's potentially a very big deal," says Lincoln Mitchell, a Columbia University professor and the author of the book "Uncertain Democracy: U.S. Foreign Policy and Georgia's Rose Revolution." "But the question is, does it formalize something that de facto already exists? What level of commitment does it really make?"
News of the emerging pact leaked earlier this week during a visit to Tbilisi by U.S. Deputy Assistant Secretary of State for European and Eurasian Affairs Matthew Bryza. At a press conference on December 16, Bryza said that "no agreement exists," but then went on to strongly suggest that something was indeed in the works.
"What we talked about in detail, was U.S.-Georgia cooperation on security and strategic partnership," Bryza said. "We're still working through how to reflect the beautiful words 'strategic partnership' in our actual actions and actual life."
Officials close to the negotiations say the pact will closely follow a model established by the Baltic states in the late 1990s.
Baltic Model
After gaining independence from the Soviet Union in 1991, Estonia, Latvia, and Lithuania were seeking to join NATO in the face of fierce opposition from Moscow. In January 1998, the three countries and the United States signed the U.S.-Baltic Charter.
That agreement did not have an explicit security guarantee, but said that the United States had a "real, profound, and enduring interest" in the Baltic states' security. It also committed Washington to assisting the three countries with military and other reforms with the aim of helping them integrate into Western institutions.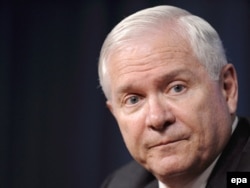 While it's unclear whether the incoming U.S. administration will approve, the secretary of defense will be the same.
The agreement "will be similar to the charter that was signed between the United States and the Baltic countries," Temur Iakobashvili, Georgia's reintegration minister, told RFE/RL's Georgian Service in a recent interview.
"It is not just about security, it will include the whole spectrum of the bilateral relations -- along with security, it includes economy, culture, civil society, democratic development, etc., etc. It's certainly a very broad document."
Latvian Foreign Minister Maris Riekstins calls the U.S.-Baltic Charter "the first very serious and real step towards our membership" in NATO, which the Baltic states joined in 2004.
"Although the charter doesn't specifically mention our membership in NATO, or any kind of guarantee that we will be granted such membership, I think it was a political signal that the Americans are very serious about our security," Riekstins says.
In the face of fierce Russian opposition, NATO declined to give Georgia and Ukraine Membership Action Plans (MAPs), a key step to formal membership, at the alliance's summit in Bucharest in April. The allies did, however, pledge that the two former Soviet states would eventually join.
At a foreign ministers' meeting in Brussels on December 2-3, just months after Georgia and Russia fought a bitter five-day war in August over South Ossetia, the Western alliance again declined to give Georgia and Ukraine MAPs. The allies, however, reiterated their commitment to admit Georgia and Ukraine and to assist them in that goal via the NATO-Ukraine Commission and NATO-Georgia Commission.
No Shortcuts

Riekstins says that while a bilateral agreement with the United States could smooth Georgia's path to joining NATO, Tbilisi would be advised to follow the path to membership the alliance has established.
"I think it can play some role," Riekstins says of the potential U.S.-Georgian agreement. "But I think at the same time, we should not disregard the existing framework that has been established by NATO and Georgia, and also with Ukraine. Namely, the NATO-Georgian Commission, which at the last NATO ministerial meeting was accepted as an essential instrument for negotiating all issues pertaining to military reforms and also including the potential membership issue."
The United States, Britain, and new member states like Poland, the Czech Republic, and the Baltic states have strongly supported the aspirations of Georgia and Ukraine to join NATO. Germany and France have largely opposed their bids, arguing that it would unduly antagonize Moscow, which still sees those two former Soviet states as part of its sphere of influence.
It it not certain what fate either the Georgian or the Ukrainian pacts will have once Barack Obama takes office on January 20. U.S. President George W. Bush's defense secretary, Robert Gates -- who would be a key player in any security agreement -- will retain his position under Obama, signalling the deals may not die with Bush leaving office.
Analysts in Tbilisi say that while a bilateral agreement with the United States would have symbolic political importance and would help Georgia implement much-needed reforms, it would do little in terms of providing additional security.
"We can expect a broadening of military cooperation but I think it's too early to expect America to commit itself to defend Georgia at this point," says Tornike Sharashenidze, head of the Foreign Relations Program at the Georgian Institute for Public Affairs.

RFE/RL's Georgian Service contributed to this report