KBR Supreme Court Again Calls For Abolition Of Balkar NGO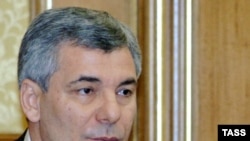 The Kabardino-Balkaria Republic (KBR) Supreme Court ruled on May 31 that the unofficial Council of Elders of the Balkar People (SSBN) is an extremist organization and should be abolished.
That ruling was based on demands for a separate Balkar autonomous republic expressed at a
meeting in Nalchik
on March 8. The meeting participants'
stated rationale for that demand
for "self-determination" was that the republic's authorities "have done nothing" to address the Balkars' long-standing grievances.
The lands claimed by the Balkars as theirs constitute some 40 percent of the total territory of the KBR, but the Balkars account for only a little over 10 percent of the republic's total population of over 900,000.
The KBR Supreme Court demand for the liquidation of the SSBN was the second in just over two years. In November 2007, the republican prosecutor's office asked the court to ban the SSBN in light of allegedly extremist statements contained in an assessment of the socioeconomic situation addressed to then-Southern Federal District head Dmitry Kozak. The SSBN member who authored that document protested that the statements in question were all quotations from official government documents, but the KBR Supreme Court nonetheless
issued a ruling
in January 2008 branding the SSBN extremist and calling for its closure.
The SSBN appealed the court's ruling to the Russian Federation Supreme Court, which in March 2008 ordered the KBR Supreme Court to reconsider it.
Since then, tensions between the Kabardian majority and the Balkar minority have intensified, despite a meeting in October 2008 between SSBN representatives and KBR President Arsen Kanokov. In July 2009, the Balkars convened a rally in Nalchik to protest years of perceived discrimination. The KBR leadership retaliated by
staging a counterrally
in early August at which participants criticized the Balkars for allegedly seeking to destabilize the political situation.
The SSBN sought to stage a further protest in Nalchik in late August, but was denied permission to do so. A separate group of Balkars then decided to organize a march from Nalchik to Moscow, where they hoped to obtain an audience with either Russian President Dmitry Medvedev or Prime Minister Vladimir Putin to discuss their demands. But they abandoned that undertaking in early October at the request of a member of Medvedev's staff.
About This Blog
This blog presents analyst Liz Fuller's personal take on events in the region, following on from her work in the "RFE/RL Caucasus Report." It also aims, to borrow a metaphor from Tom de Waal, to act as a smoke detector, focusing attention on potential conflict situations and crises throughout the region. The views are the author's own and do not represent those of RFE/RL.